When you've lived somewhere long enough, it can be easy to take things for granted. For example, here's a slightly embarrassing confession – I've lived in Chicago since 2009 and I didn't make it to the top of Willis Tower until this year. 2023. I know! It's ridiculous. I'd been to the top of the Hancock Building several times (RIP, Signature Room). So why not Willis?
First, I've got a little fear of heights. And second, I live here. So other than an extremely scenic view, there wasn't any enticement for me to check the Skydeck off my Chicago bucket list. Until recently. Let me tell you all about Dinner in the Sky, a special event hosted by Kindling x Skydeck Chicago.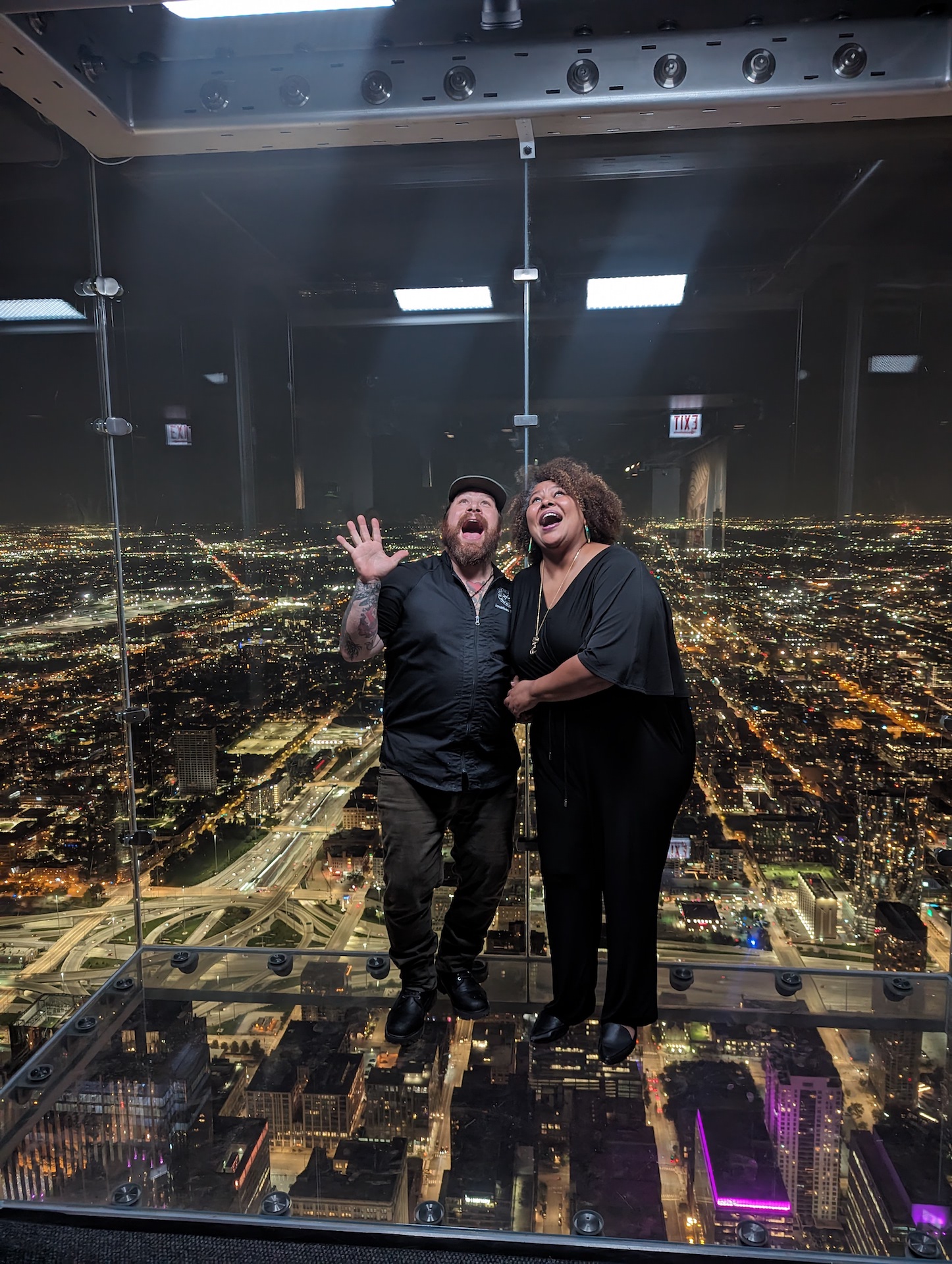 Chicago was recently named the Best Big City in the United States by Conde Nast —  an accolade we've received consecutively for the past seven years! All for good reason, and it was time for me to finally fully experience one of our most outstanding tourist destinations. Willis Tower (forever Sears to locals) is an iconic, historic skyscraper that offers office space, residential spaces, has a bunch of great restaurants, there's a Chicago history museum in the lower-level, and then you can go all the way up to the top to see the view of all views.
On our evening there was a spectacular harvest supermoon, making for an astonishing red moon over the city.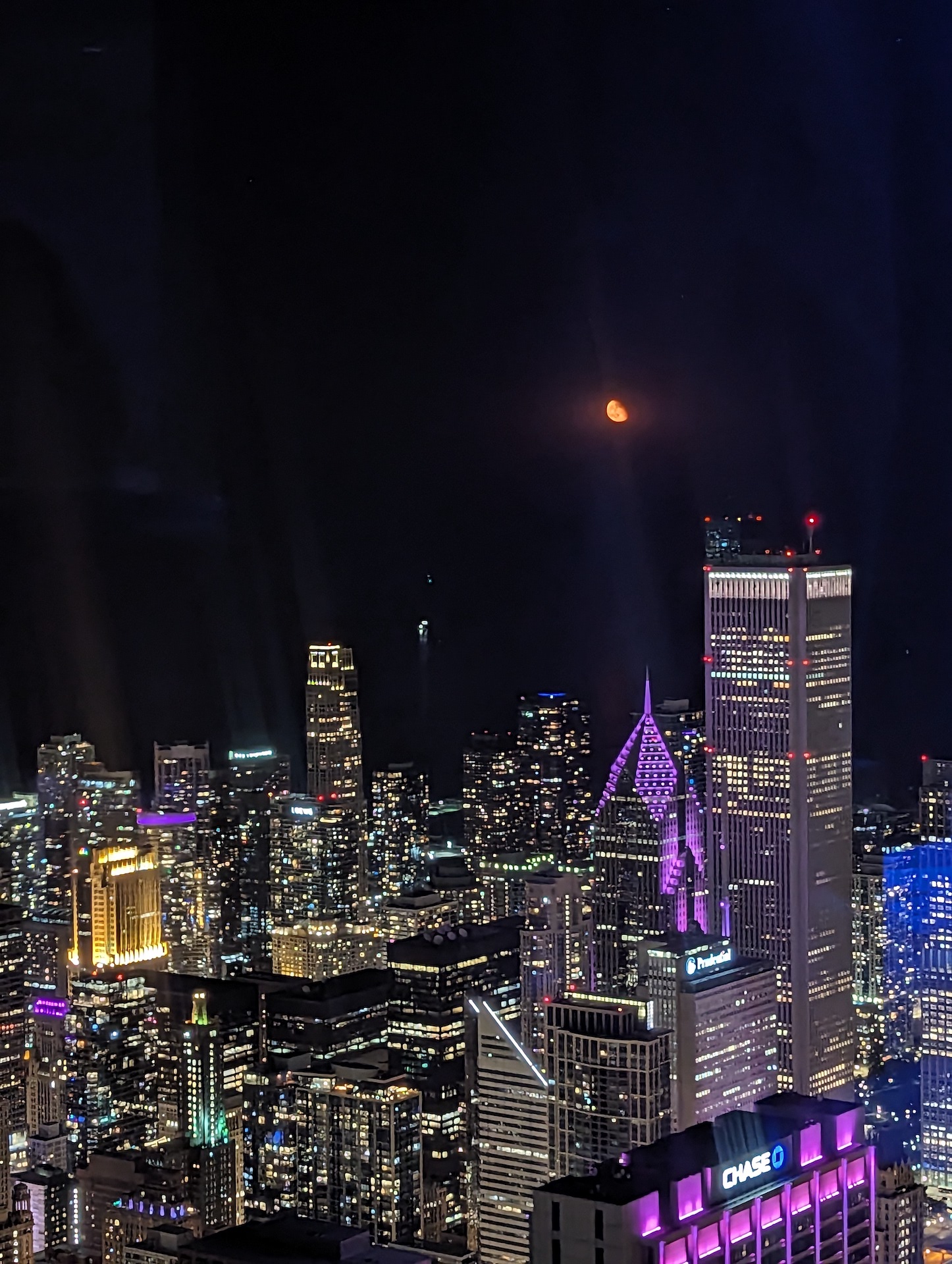 I'd heard about Chef Jonothan Sawyer before – as a James Beard-award winning chef, he made his name in Cleveland before moving to Chicago. Now he's the chef partner of Kindling Downtown Cookout & Cocktails, such a cool spot with an incredible menu. He was so cool, funny, down to earth and approachable. A lovely guy. My husband and I are already planning to go back to Kindling to experience it all – the restaurant itself looked really cool! But for this dinner, we didn't eat in the restaurant itself. On this magical evening we started with an appetizer on Kindling's adorable outdoor terrace.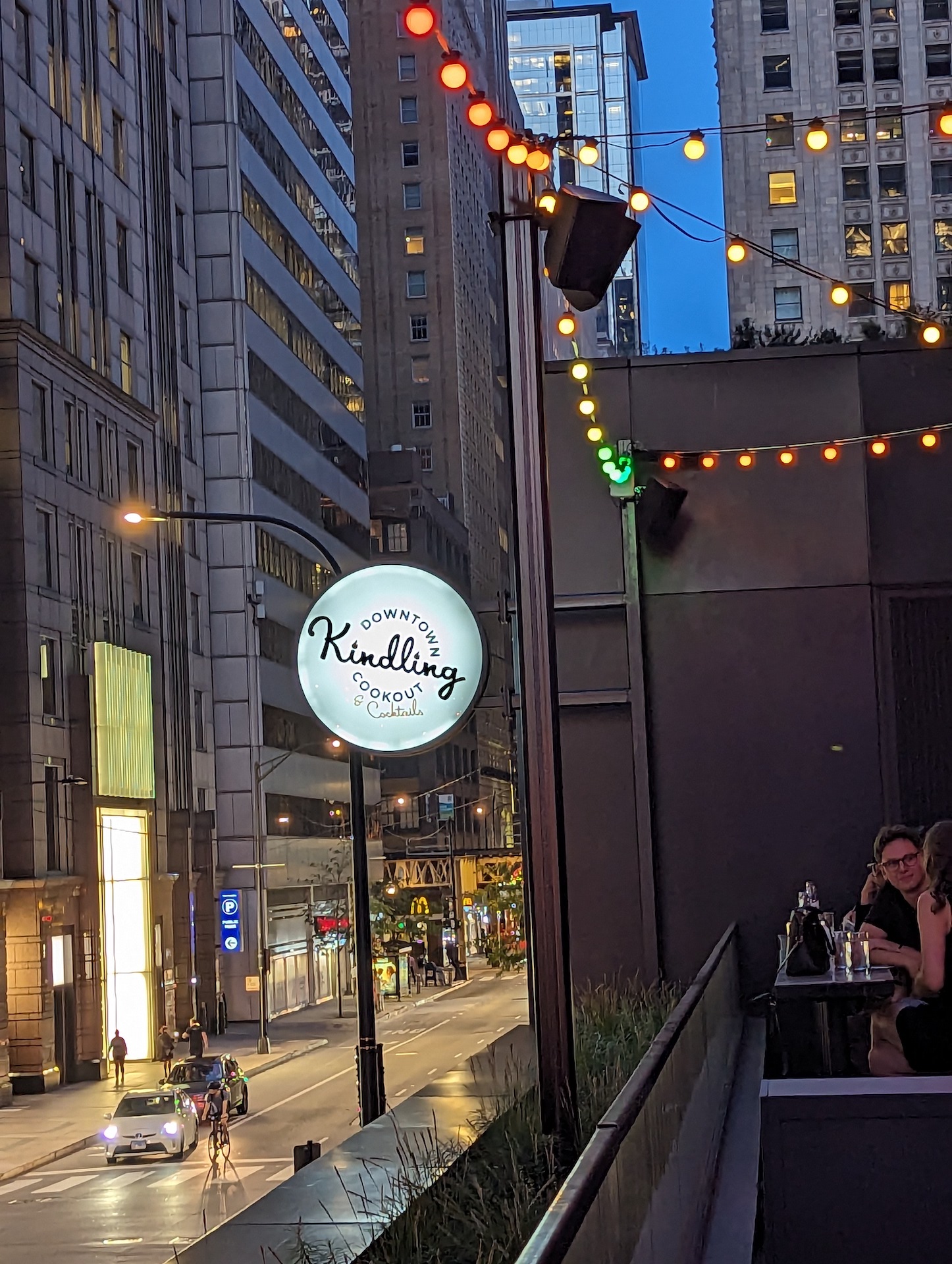 And then we were ushered through Skydeck's lower-level museum, and then whisked upstairs where a beautiful table awaited us. Our dinner was served with an unforgettable view. Just wow.
Dinner in the Sky was phenomenal with some delightful and memorable culinary elements.
Our first course was the Willis Tower Torchon – duck liver foie gras, honeycrisp apples, crispy safe, and oak smoked candied walnuts. That was paired with WTB bread – a variety of breads served with a wagyu beef fat edible candle (check out Chef Sawyer making them here!), maldon sea salt, and a rosemary lemon zest gremolata. So delicious.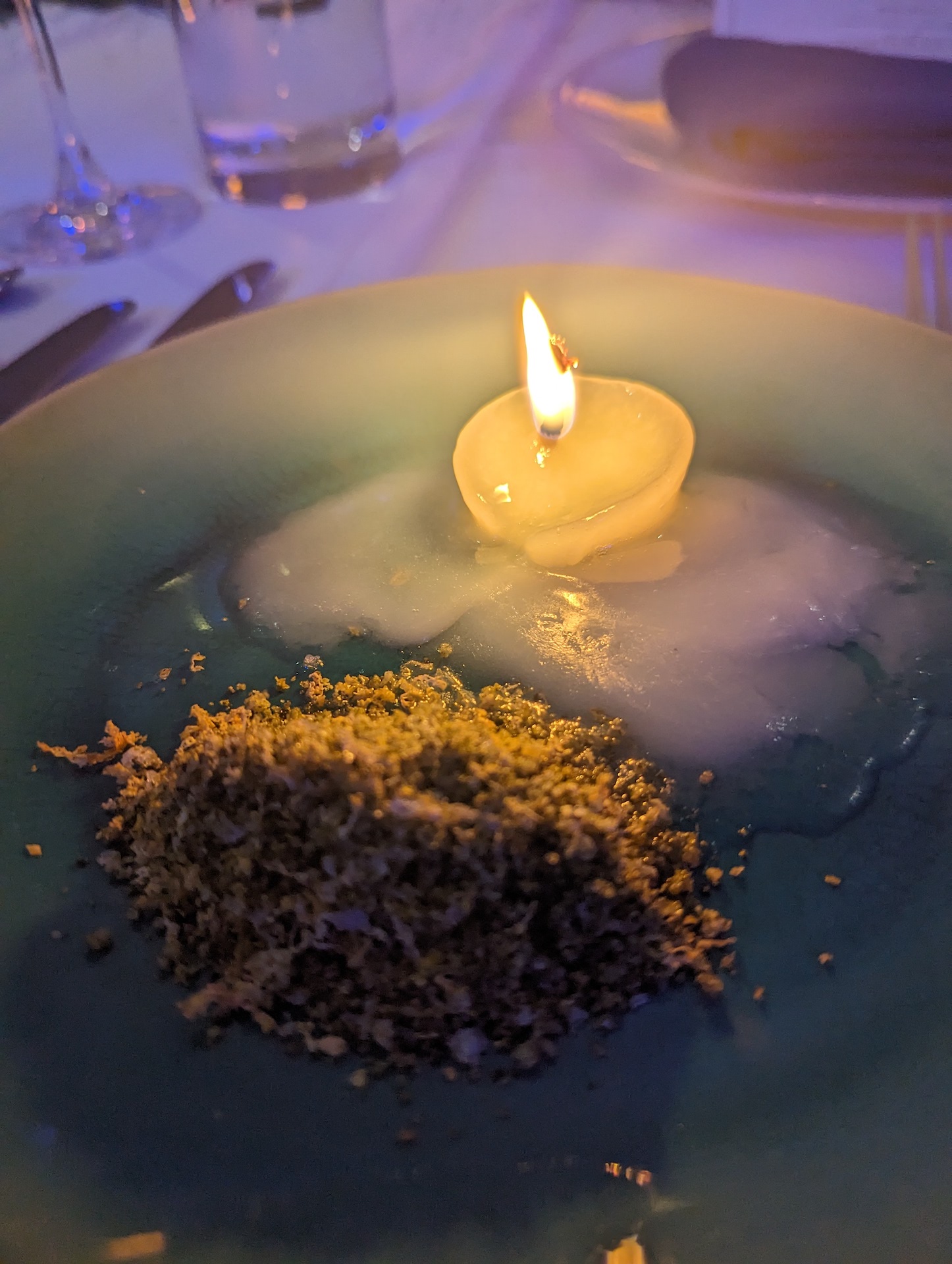 Second course was a raviolini black truffle and fromage blanc, made with artichoke, celery leaf, brown butter, red onion brulee and parmigiana. This was paired with Jordan Chardonnay 2019 and it was so smooth and a perfect pairing. Loved this dish.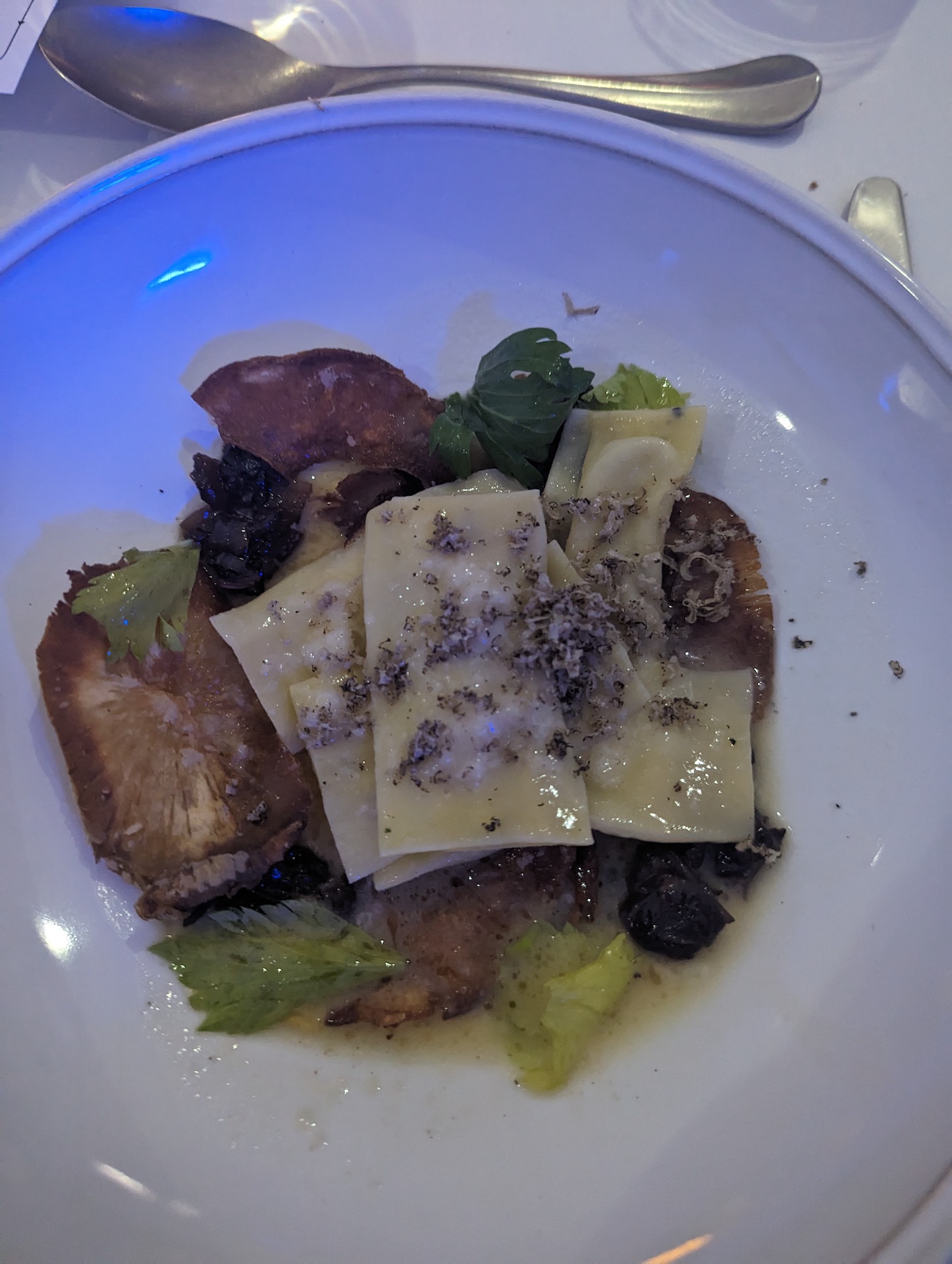 Third course was the surf and turf – the tomahawk prawn we were served was huge! This was paired with a wood fired dry aged prime strip steak, and a short rub au poivre served with pumpkin pomme puree. I loved what I tried but this was a rich dish and I just couldn't finish it all. I really loved the seafood element the most.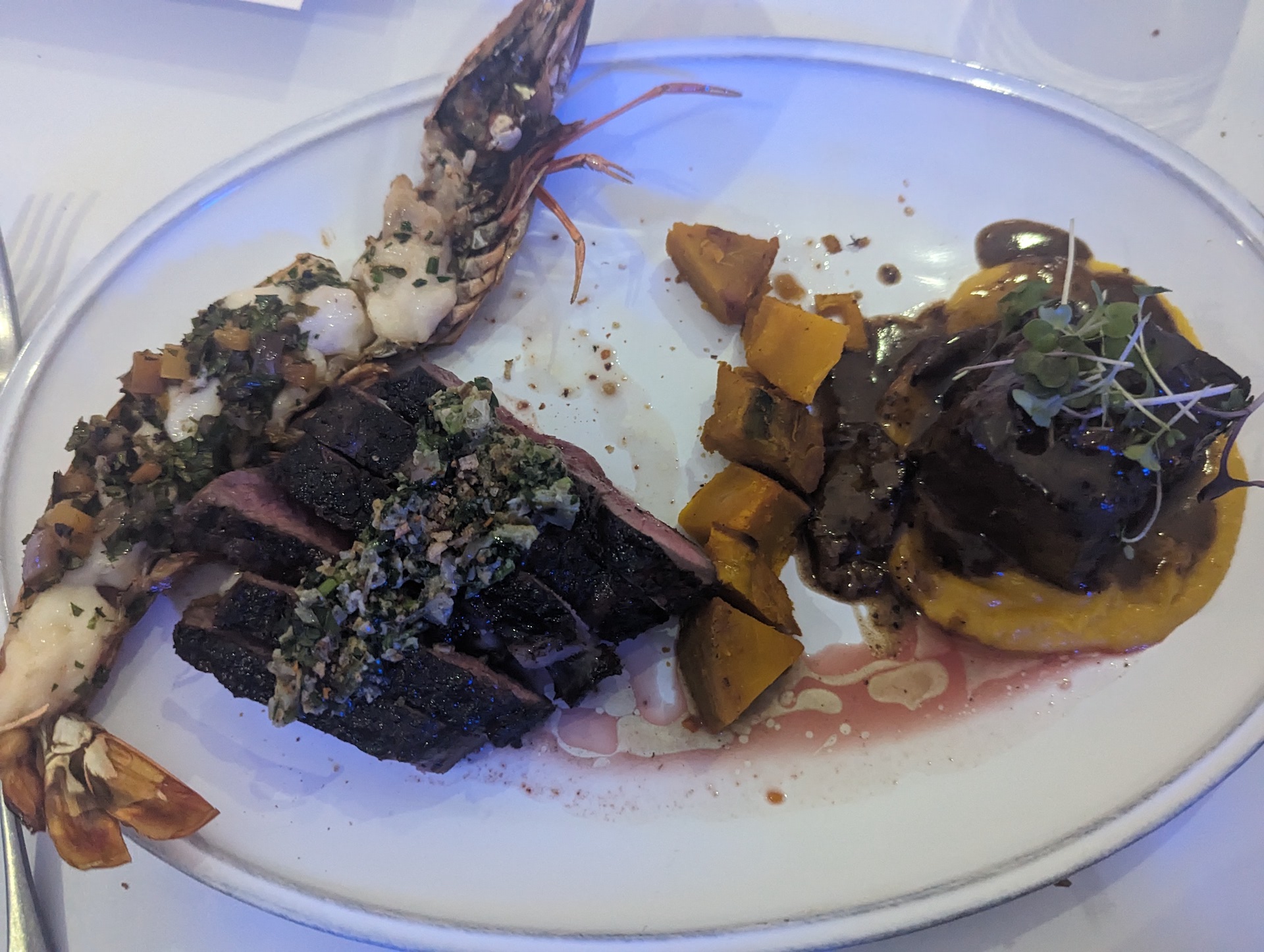 Dessert was an unusual delight called Textures of Satsuma Oranges – the dessert chef served us these beautiful oranges filled with different textures. Sorbet, bavariose, and freeze dried satsumas nestled inside. So lovely and unique, paired with champagne Theinot brut rose – fabulous.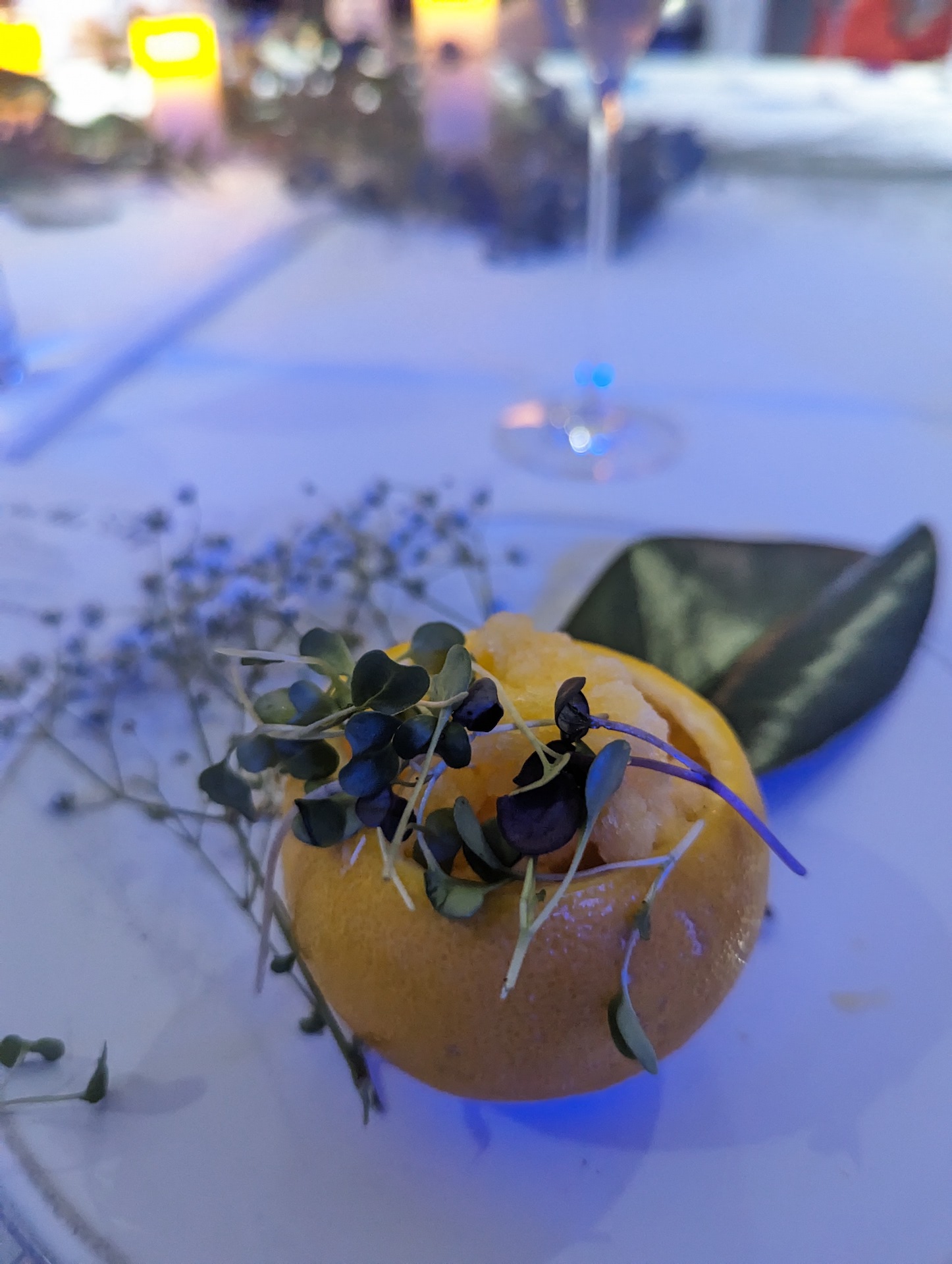 After our amazing dinner, we were taken up to The Ledge – Sears Tower's experience at the top where you can see basically the whole city. I was nervous so Chef Sawyer took my hand and we went for it!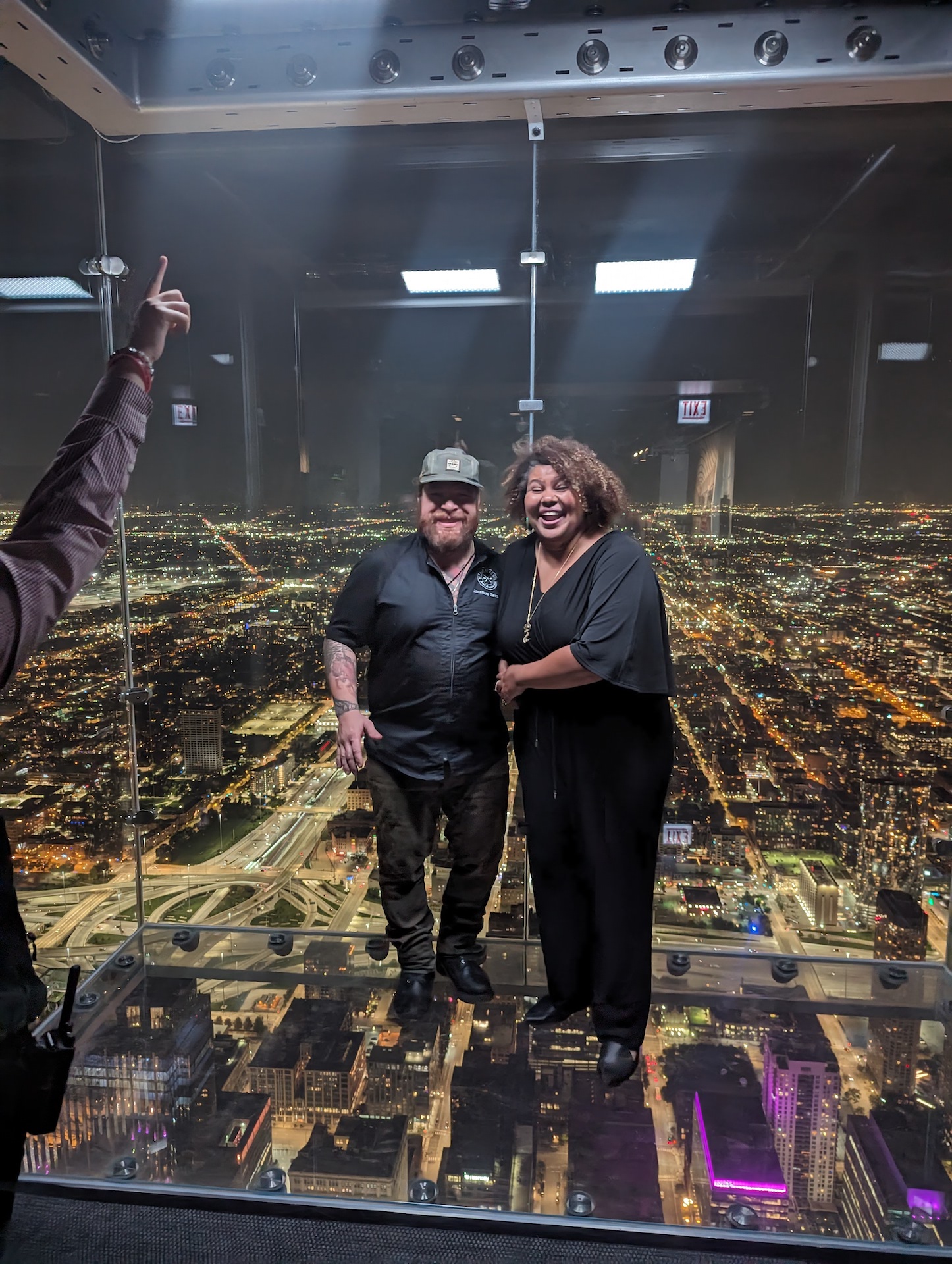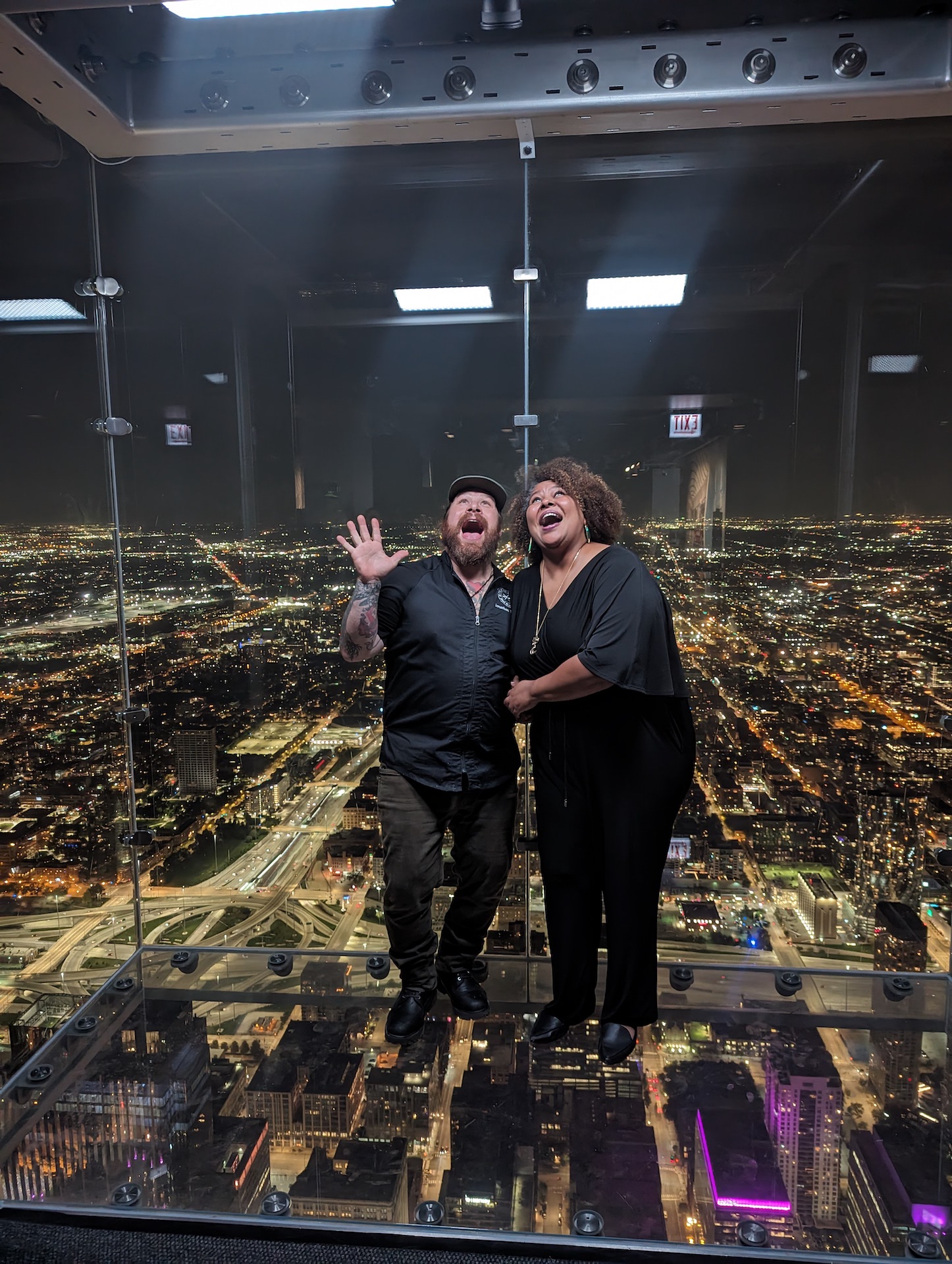 After that view and taking a few photos, we enjoyed desserts and martinis before heading home. What an absolutely unforgettable only-in-Chicago kind of night. And there are two opportunities for you to experience Dinner in the Sky this November! Click to check out details for the  November 6 Charity Dinner supporting the Special Olympics, or the November 9 Public Dinner.
Thanks for an unforgettable evening, Chef Sawyer and everyone at the Willis Tower Skydeck!