This post was sponsored by RewardStyle and Walmart and includes affiliate links.
The leaves quickly changed from green to yellow, then sharp winds came through to blow them all away. The temperature is dropping quickly, I can feel the cold pressing through the windows. And what's that outside – are those snow flurries? Oh. It is inevitable in my corner of the world, winter is coming. I can feel it in my bones and the tell-tale signs are there for my skin and hair. The dryness is already getting to me! It's time to switch to my fall-to-winter hair care regimen.
What do you do when the seasons switch on you? It entirely depends on the season of course, but the transition from warm weather to cooler to downright cold requires hair care strategy. This is a time when I need to use deeply penetrative, moisturizing products for every step of my regimen. And in these unprecedented times where we're venturing out less and shopping online more, I was SO absolutely surprised and delighted to find that everything I need is right there on Walmart.com.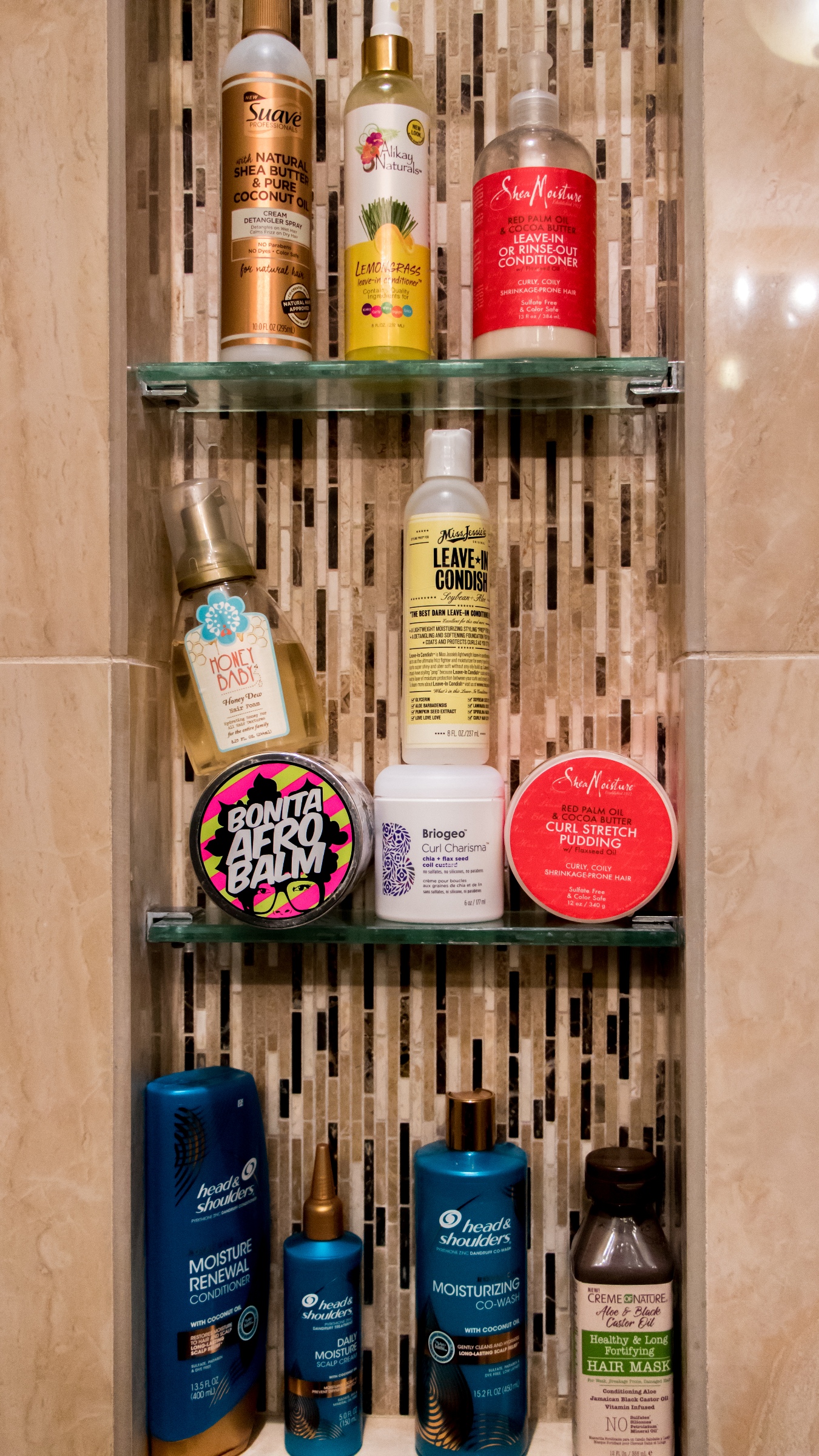 Walmart Beauty stepped up the entire game when it comes to our hair care needs. If you haven't checked it out yet, welcome to the Curl Shop. Follow me to find everything your hair needs for this season!
In The Curl Shop, they break it down all the way, with easy to find products for bellas with locs, wavy hair, protective styling needs and more. There are even special categories for kids and men. I found everything I needed between the coily and curly hair categories, much of it from Black owned indie brands that I know, love, and always try to support, like Alikay Naturals, EDEN BodyWorks, The Mane Choice, Honey Baby Naturals, Soultanicals, and The Doux. They've also stepped up the game with higher-end hair and beauty products than you may expect in their premium beauty and premium hair care departments, like Briogeo, MoroccanOil, and Ouidad. Yes, at Walmart! I found so many amazing items. Check out my picks and what I'm using now!
My Winter Hair Cleansing Product Picks
Winter hair care means it's time to switch up my entire regimen, beginning in the shower. Right now, I can tell its winter not just because I'm seeing literal snowflakes outside my window (yes, I am), but also because I can literally feel it in my scalp. The forced air, the dry heat, those sharp winter winds and extreme cold outside leads me to have a dry, irritated head. I get eczema on parts of my body in winter. And my scalp goes THROUGH it every year, and becomes so dry, itchy, flaky, scabby. I have to amp up my scalp care around this time of year. My favorite discovery of late is the Head and Shoulders Royal Oils collection – the Moisturizing Anti-Dandruff Co-Wash and Moisture Renewal Conditioner are doing the work right now. My scalp is getting the extra TLC and moisture it needs to stay flake free despite the elements.
They also make a Head and Shoulders Daily Moisture Scalp Cream which just feels like relief when I put it on. My scalp goes "ahhhhhhh," in the best way. Rubbing in this gentle cream to my scalp is so much better and healthier than itching it raw. Which I have done in the past! I've learned to be much gentler, and use the pads of my fingers for gentle, regular, moisturizing scalp massage.
I try to lean into my deep conditioners and hair masks and oils for sealing or hot oil treatments around this time of year. It's too cold for sitting around with wet hair under a shower cap, so I turn to quick acting deep conditioning treatments and masks. My latest favorite is by Crème of Nature – they've got a ton of great varieties right now, but their Aloe and Black Castor Oil Healthy and Long Fortifying Hair Mask is bomb. It's giving me the hydration I need for this stage of the season.
My Winter Hair Styling Product Picks
Earlier this year I wrote all about how twisting my hair has become a pandemic self-care ritual, and the practice continues. During winter weather, I'm all about twists and a twist out. After shampooing and deep conditioning, I still spritz on a leave in conditioner. One of my favorites is by indie brand Alikay Naturals (you know I believe in that Lemongrass Leave In). In the winter I like a thicker quality of leave in, something with weight and body. Right now I'm using the Suave Natural Hair Detangler which is a spray-on leave in. I also really like the Miss Jessie's Leave In Condish which dispenses more like a rinse out condish – it has great viscosity for winter protective styles.
For a good styling butter for braids, twists, or wash and go styles, I've got two indie brands I reach for more than others and both of them are available in Walmart's Curl Shop! The Doux has fresh packaging, fun names, and excellent products. Their Bonita Afro Balm Texture Cream is bomb for twists and braids (and twist outs and braid outs).
Honey Baby Naturals makes amazing hair and body products that harness the power of honey as a humectant. I love their hair products for wash and gos and twists. Their Honey Dew Foam is such a light, moisturizing, perfect for styling my coils for a wash-and-go product.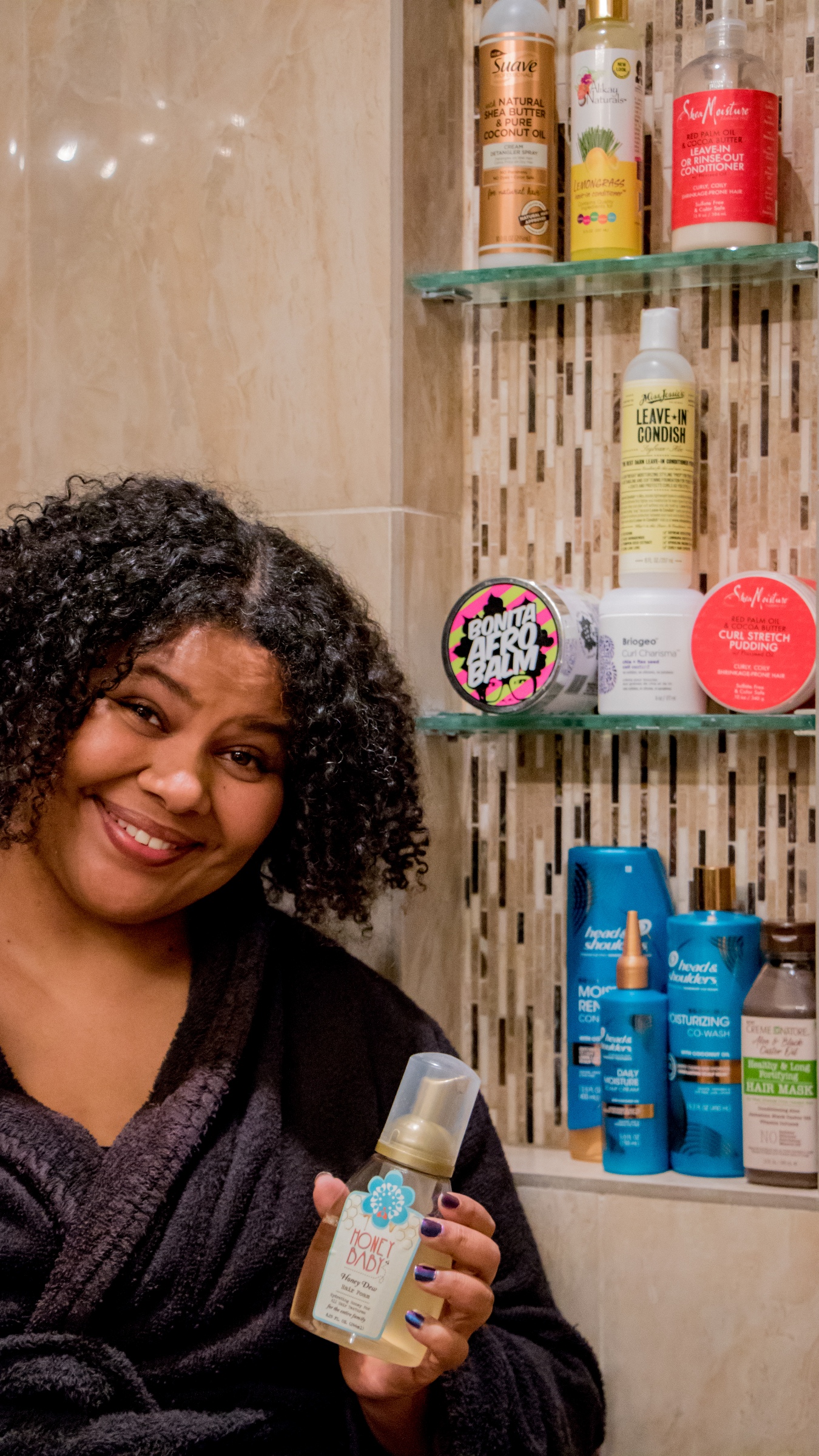 SheaMoisture is still holding it down as one of the most popular brands for natural hair, and with good reason. If you haven't shopped the brand in a while, there are some label colors to check for. The light blue label is the Manuka Honey and Yogurt blend and it's their hydrate and repair line. I really like it for this time of year. My other favorite is the bright red label, with palm oil and cocoa butter (and a free trade sticker, to be noted!) – that Leave-In or Rinse-Out Conditioner and the Curl Stretch Pudding are both bomb and the perfect weight and thickness for twists or braids at this time of year.
And THAT is an exhaustive yet still somehow incomplete list of the products I'm using to take care of my hair at this juncture of the seasons. See any favorites? Anything you love or want to try? Tell me what you're doing to care for your hair in the comments below!
This post was sponsored by Walmart The Curl Shop and Reward Style, but the opinions and product reviews are all mine, based on my honest experiences!