Back in my newspaper days, I had an online column called Patrice's Pretty in the City. I even won a South Florida National Black Journalists Award for it back in 2006. Sadly, all we have are memories and these articles from the archives as a record of those times.
For my column, I visited spas all over Miami and South Florida in general (even made it to West Palm Beach once). Fancy hotel spas, funky boutique spas, strip mall chain spas – I went to all that I could. I got great feedback from readers and from the businesses I reviewed – I'll never forget the feeling of revisiting a day spa in Coconut Grove, only to discover that the owner had made a huge standing poster of my review, they were so proud!
Pretty in the City was 80% luxury and 20% what-did-I-get-into-now-OMG. It was a fun column to write, until it wasn't. One of my last experiences left me in tears and that's when I realized there's a reason people build a relationship at one spa only, especially for personal care practices like body waxing.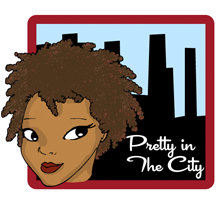 This logo was designed by artist Alex Izaguirre, and I'm bringing it back. I'll be writing more consistent, intentionally helpful beauty business and Chicago spa reviews here on Afrobella.com.
First up, Tricoci – the salon and spa chain that's been beloved in Chicago for 40 years and counting. Founded by legendary hairstylist and beauty empresario Mario Tricoci and his brother Franco in the 70's, the family-owned brand has a name synonymous with luxury and quality. Today there are Tricoci beauty universities, salons, and spas across the Chicagoland area. The Arlington Heights location is actually known for being the first salon and day spa in the Midwest area – someday, I need to go! I was invited to thoroughly review the location on the lower level of the 900 Shops on the Magnificent Mile. And it was everything I dreamed it would be.
Let me break down my experience step by step so you'll know what to anticipate when you go. And you should go!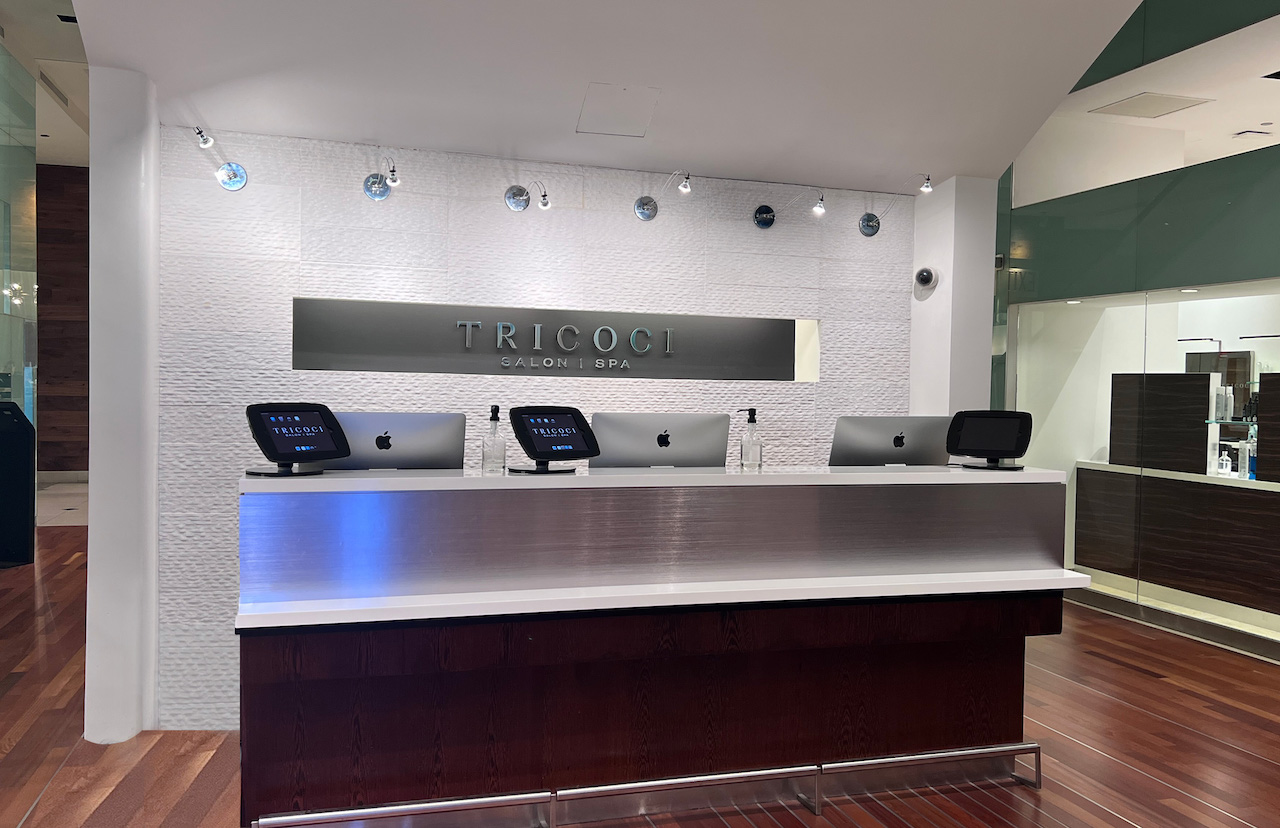 Getting Ready For the Spa
When you descend the escalator at the 900 Shops location you're immediately greeted by a bank of monitors, made for a seamless technological check-in experience for customers. You can also step in and check in at the front desk; there's no shortage of helpful staff ready to direct you to your appointment.
I was booked for an opportunity to experience every major section of the salon and spa. You can come to this Tricoci location and just experience the salon for hair and nail appointments. The spa is at the back, and that's where the facial treatments, body treatments, and massages happen. So you pass a full, busy, bustling salon where hair appointments of all kinds are happening before you get to the spa space.
The lounge and locker room set up was clean and attractive, classic cucumber spa water and an assortment of tea was available for those who had time to sit and sip. I was taken to the women's locker room to put my stuff away and prepare for my first appointment. First things first – the robe. Being a plus sized woman, a spa robe has always been a point of concern, and Tricoci had sizes up to 4X to accommodate plus size clientele. This robe was plush, lavender grey and I legit thought about buying one to go, it was so soft and fabulous. I might reconsider upon my return!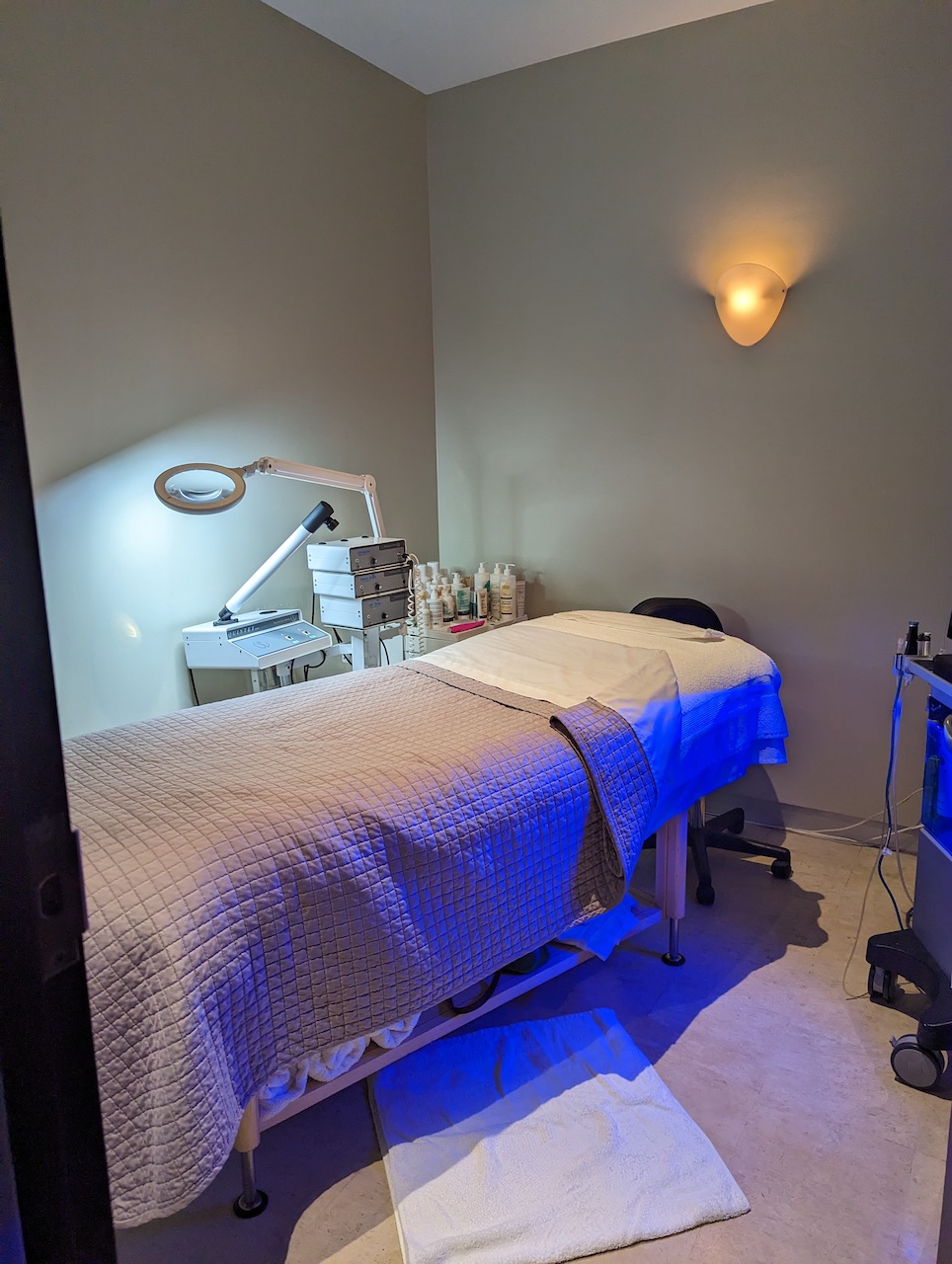 The Spa + Facial Experience
I was ushered off to meet my esthetician, Ariel. She was amazing and I highly recommend her, especially if you're looking for a Black skincare expert. Ariel was super sweet and very knowledgeable, she made me feel instantly comfortable. I experienced my first deluxe HydraFacial, and it was fabulous. Please note, I've had HydraFacials before, but those were a to-go experience on a tour bus. This was a much longer, more relaxing experience and it left me glowing and relaxed.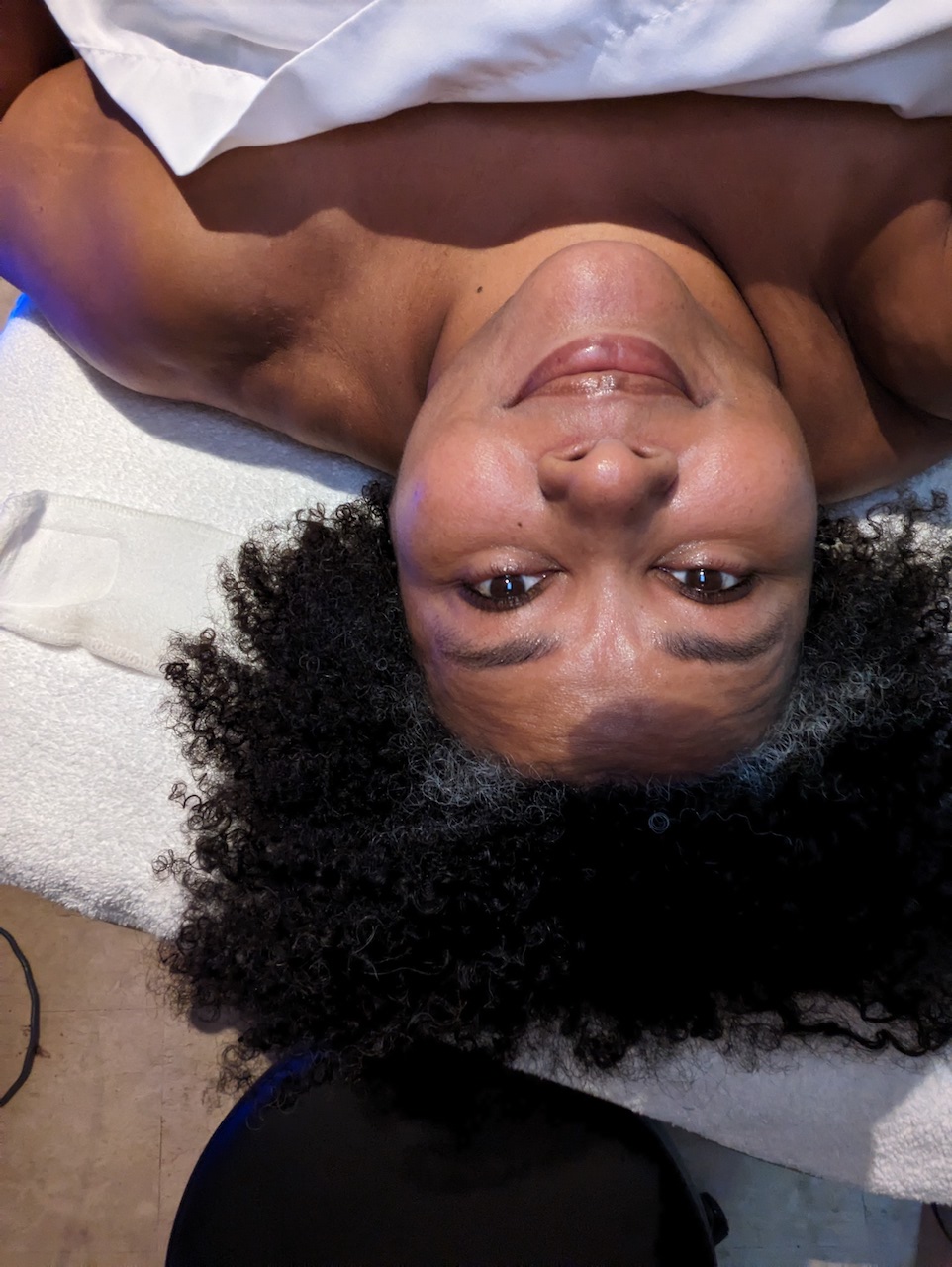 After that, I had the opportunity to try the Tricoci LED light treatment, which promises to improve elasticity and stimulate collagen production. One word to describe this – intense. Whoa.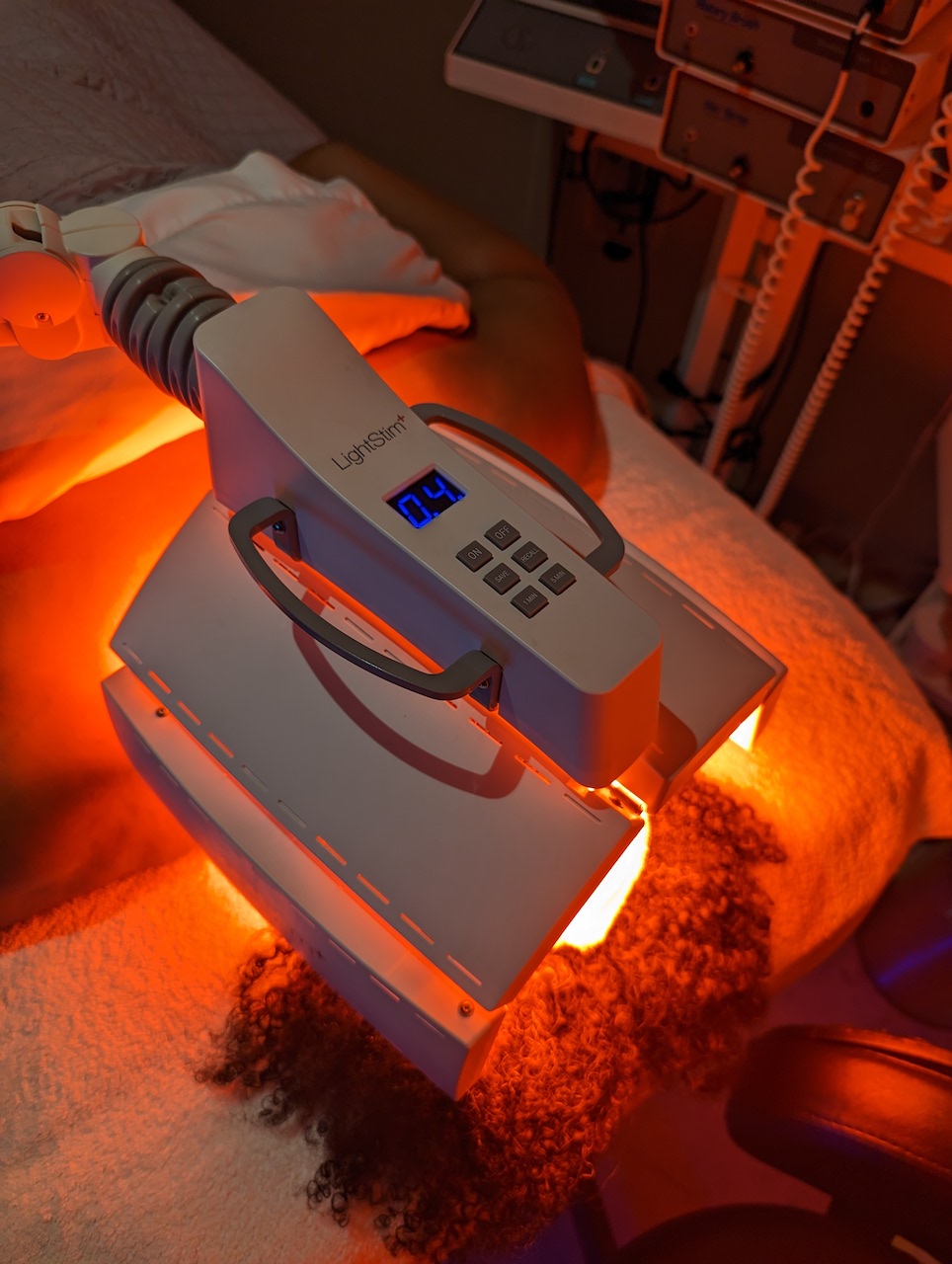 I had protective goggles on, but the whole time I was just thinking keep your eyes closed, keep your eyes closed, keep your eyes closed. Afterwards, my skin looked amazing.
Would I do this again? I'm not sure. But I am very intrigued by this technology, so probably!
My facial experience was fabulous, I would definitely go back and ask for Ariel. After my facial, it was time to head off to appointment number two, so I took off my plush, lovely spa robe and dressed in my own clothes for the more public salon space.
The Mani Pedi Experience
The manicure pedicure space is at the back of the Tricoci spa, and it's super clean and comfortable. The pedicure bench is easily adjustable and it doesn't feel precarious to get up and put your feet into the water. This is an open, friendly, social space so if you're looking for a quiet experience where you don't hear a lot of chatter or engage with anyone, this isn't that. This is a space where you might make a new friend or overhear some funny conversations. I got to meet some cool people while waiting, and also bask in that 900 Michigan Ave vibe – folks come here dressed up and on their way to something fancy, and it feels that way. Chic, plush, luxurious. Jennifer did my nails, she was great. I'm really into periwinkle nails these days!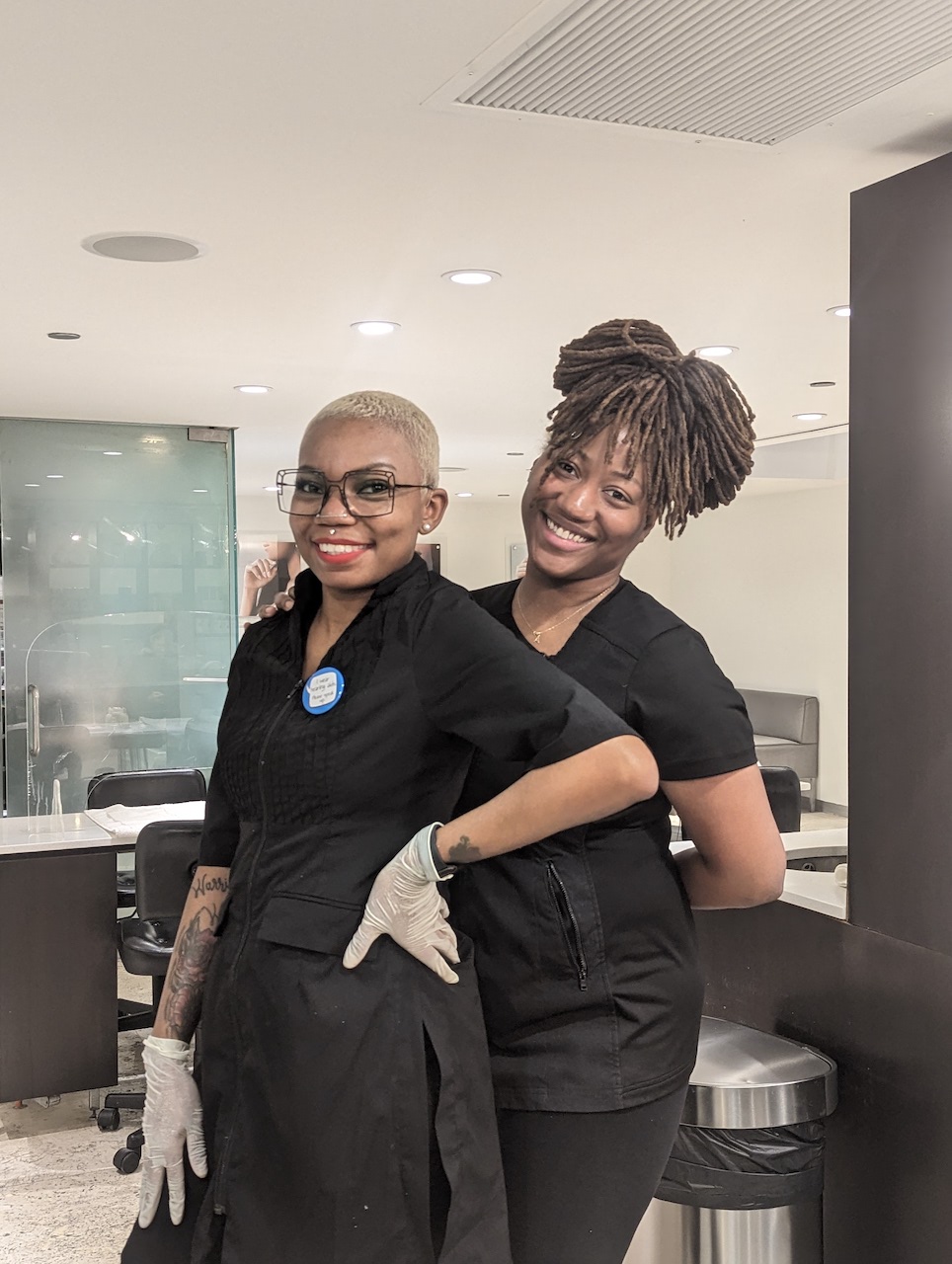 My pedicurist was Jeri, and she was amazing. Jeri is hearing impaired, and she wears a little button to let you know that she'll need you to speak up. I absolutely loved her energy and style; she was so cool and she did such a great job on my feet. I hadn't had a pedicure in forever, and she gave me her all. It was amazing. And she introduced me to a new product I need to buy ASAP, Footlogix Pediceuticals DD Cream Mousse, which melted into my feet like butter and left them feeling so soft. I need to get some for regular at home use! The whole Footlogix line is now on my radar.
The Hair Salon Review
After the mani/pedi, it was off to the hair salon for a quick analysis before deciding on color and style. I hadn't yet ventured into this part of Tricoci, and I was absolutely impressed by the layout and energy of this space. The spa area was so tranquil and serene. This is a salon with character, big personalities, and lots happening all centered around an utterly amazing and dazzling color bar, where everyone's mixing up the next hot hues and highlights.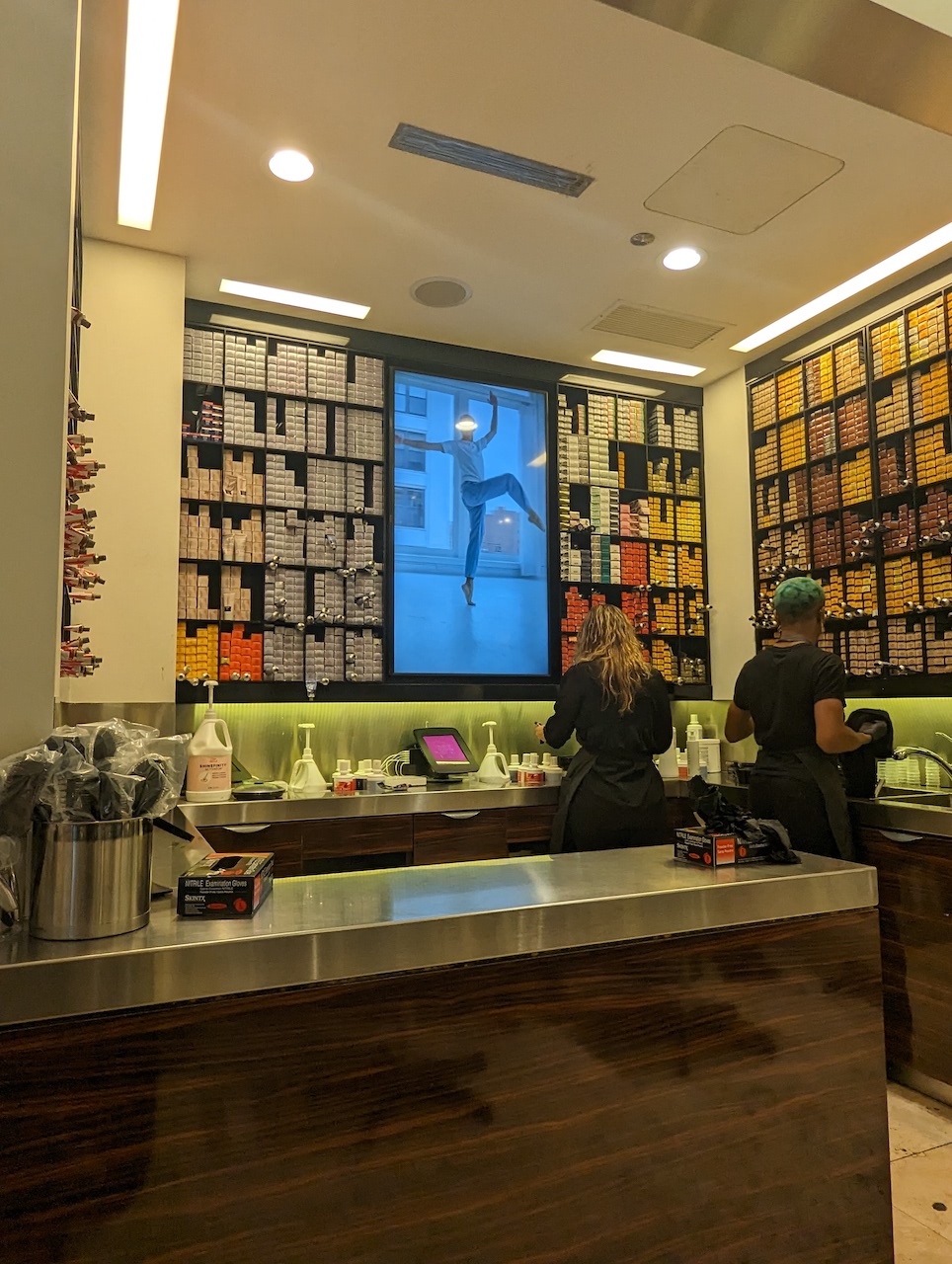 My hair color was led by Favi, and she's amazing. She knew I needed hair color that would lift my spirits and give me joy, but also would look kinda natural and grow out easily because I don't get back to the salon as often as I should. Favi got me.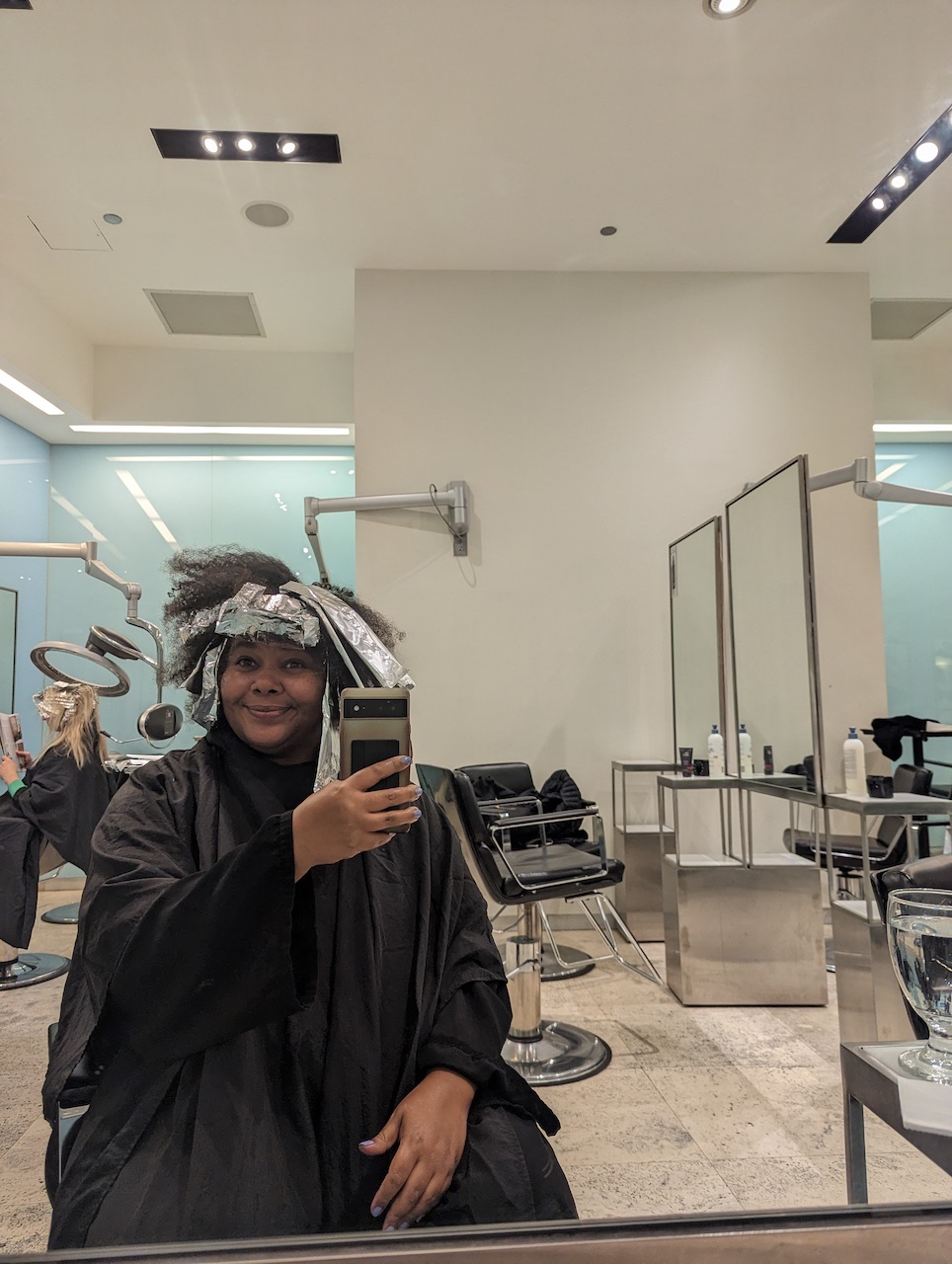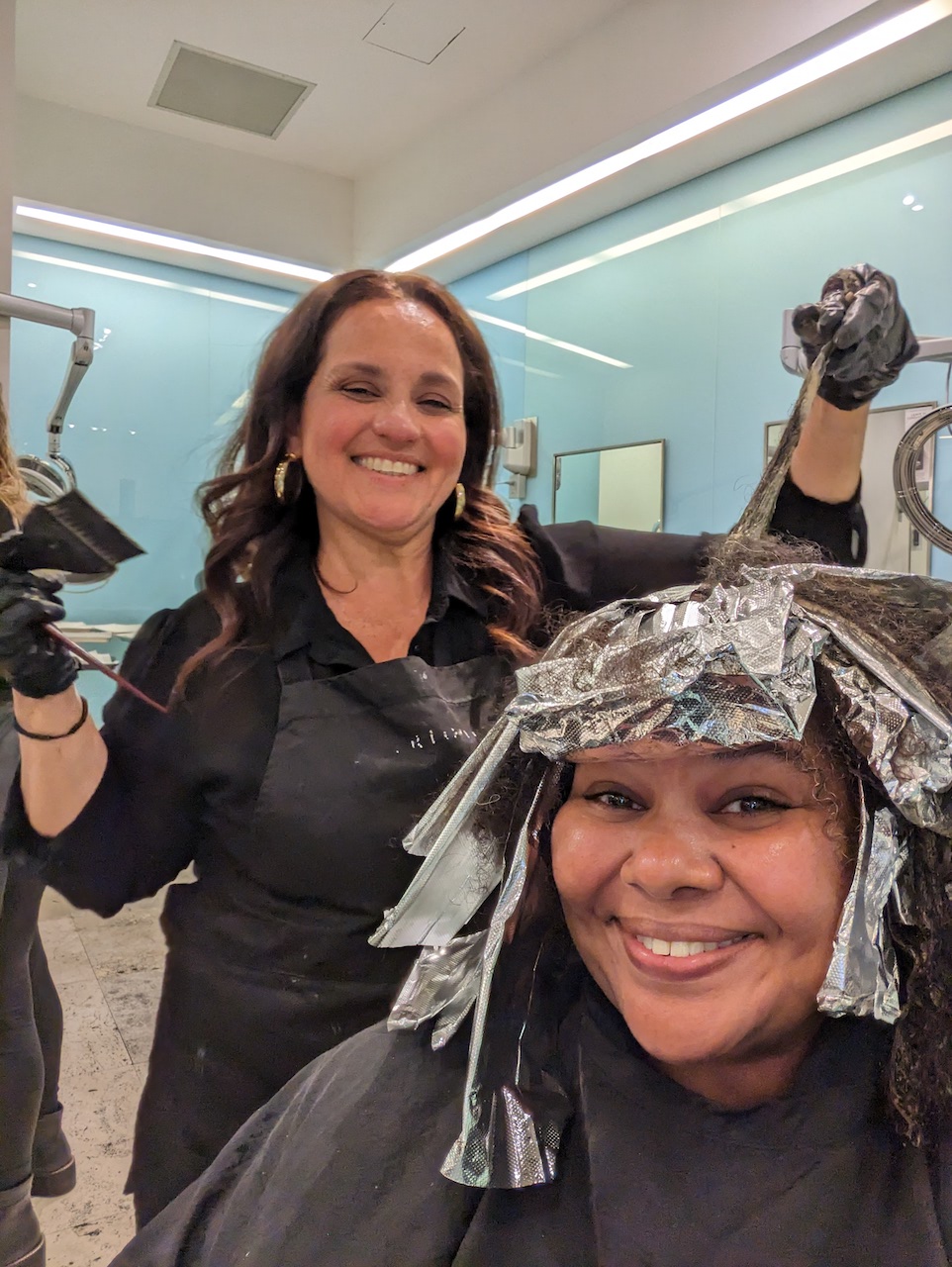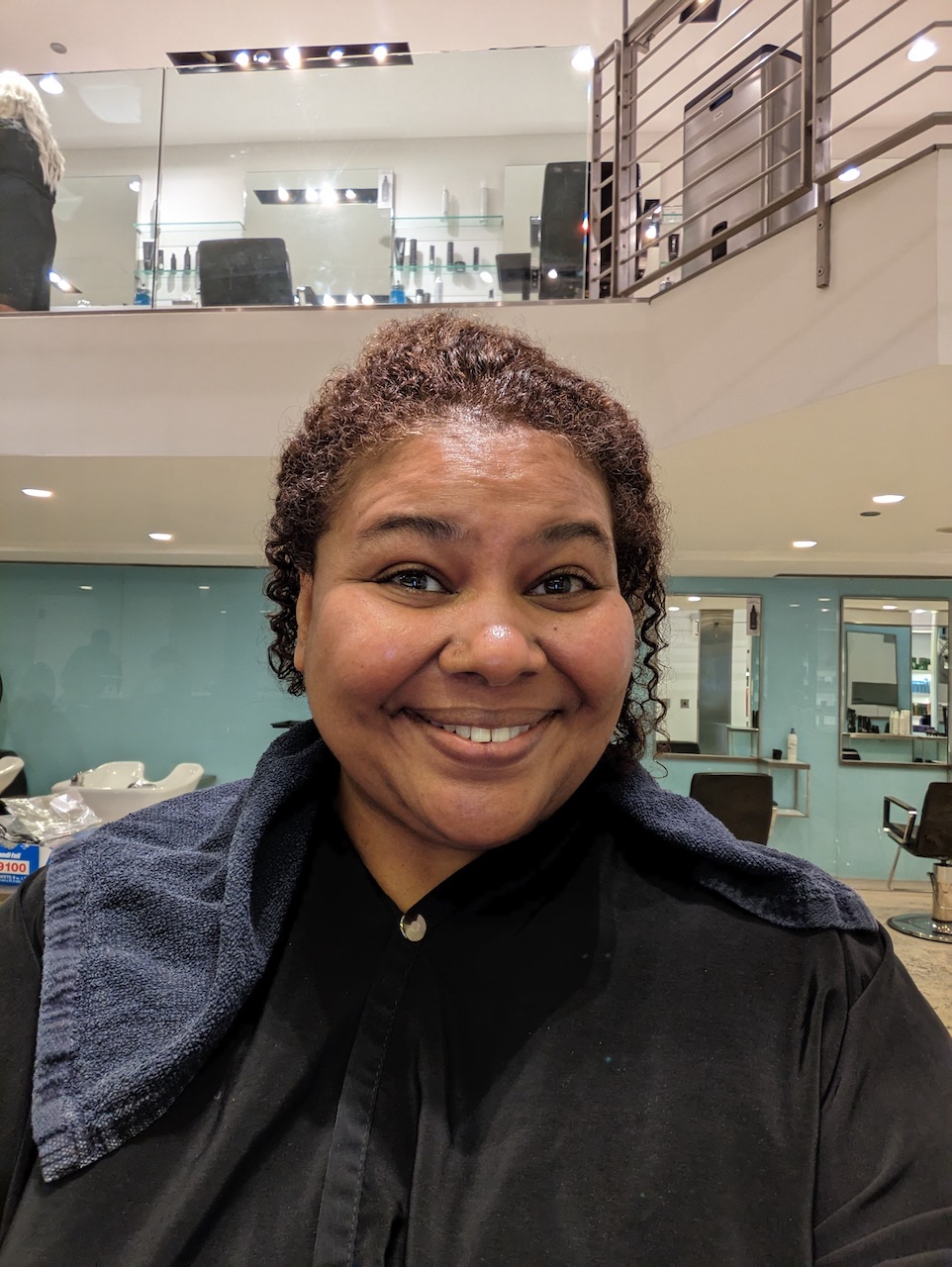 I absolutely LOVE my hair color. Dolli did my haircut and Ken assisted on styling. They used Mizani products to give me two strand twists.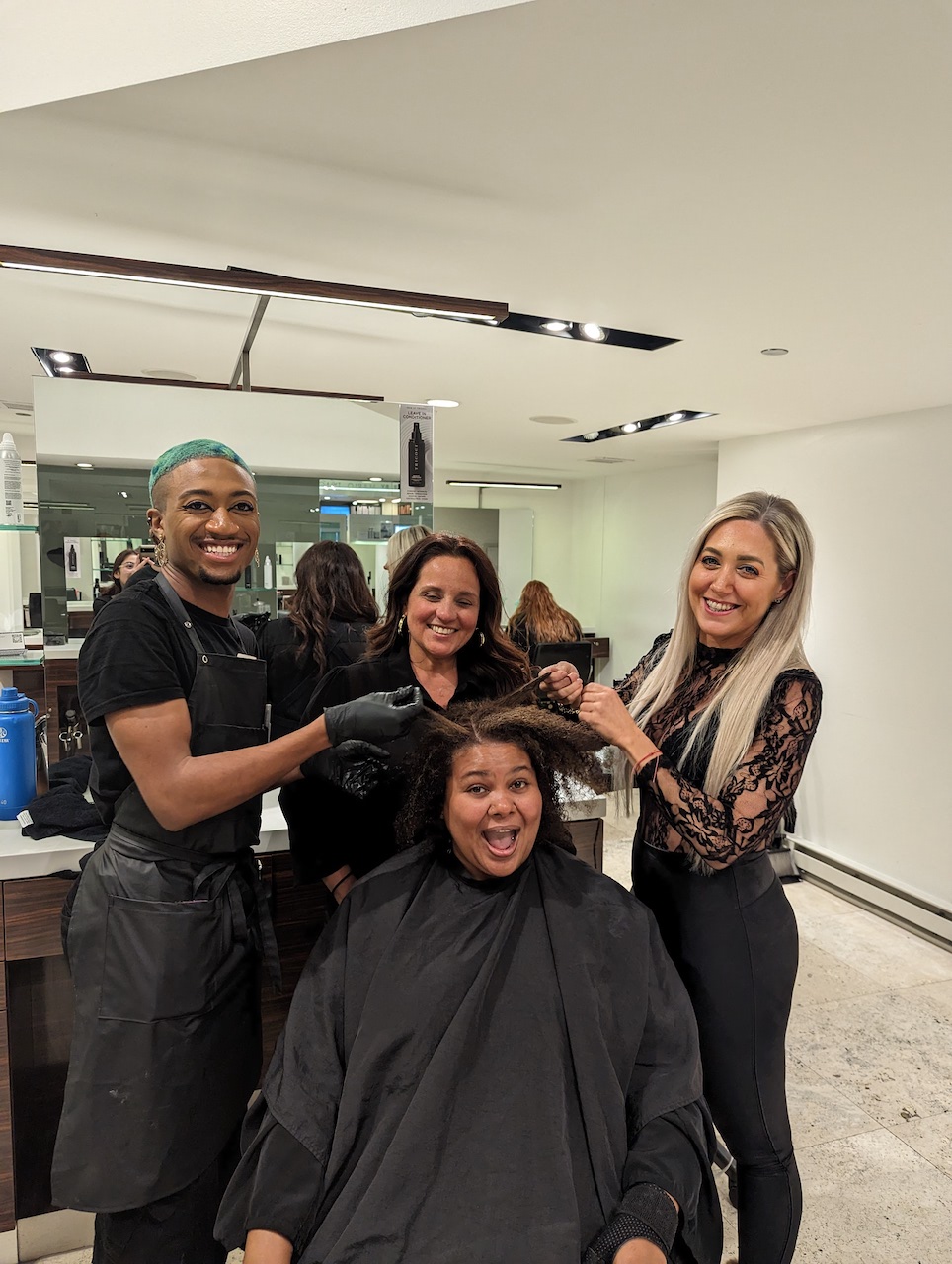 Everyone had really positive energy, and it was an upbeat and fun experience.
Here's my hair two days later, when I had a chance to wash and style it myself.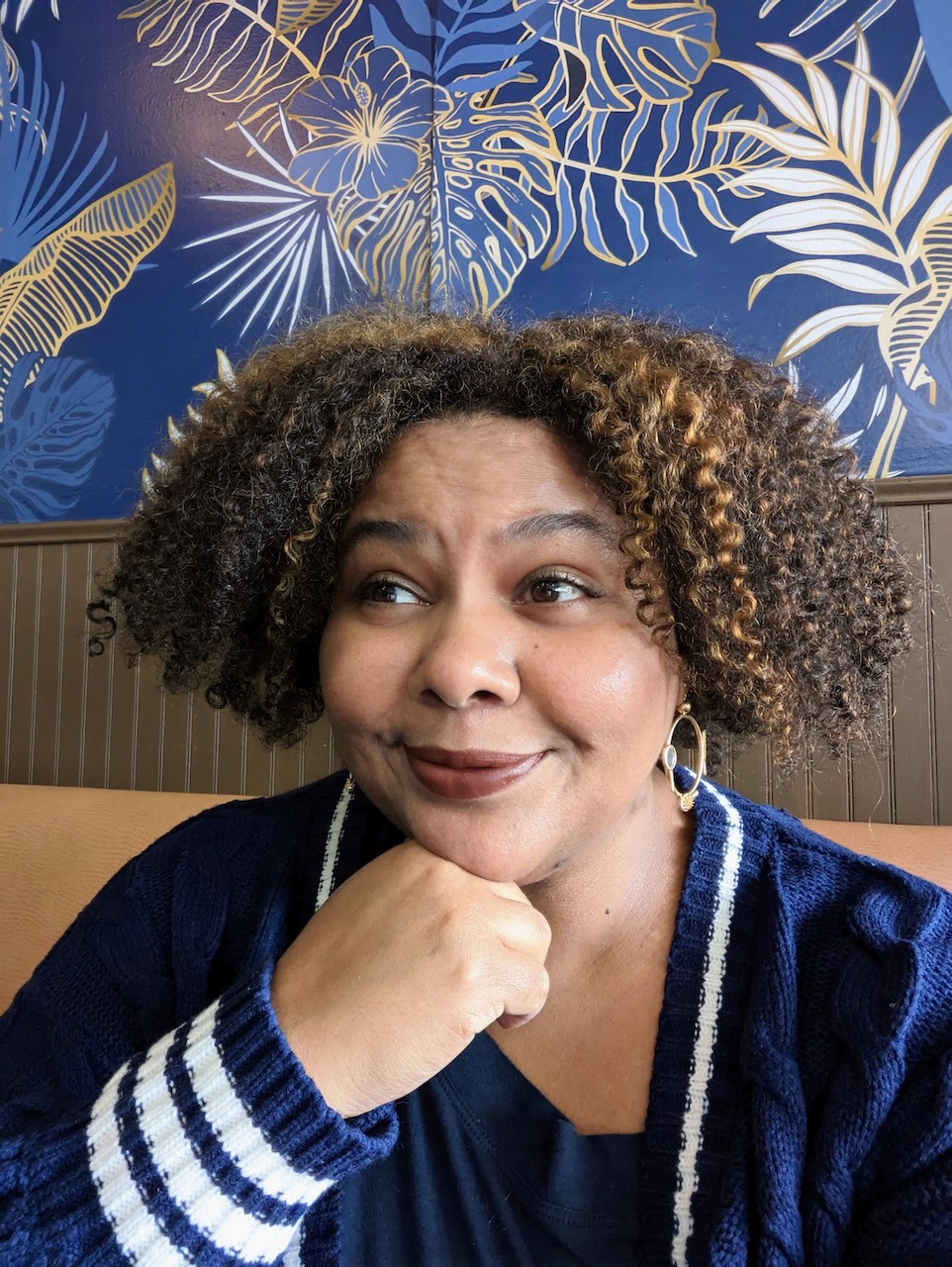 I LOVE it! It's giving lob which is what I was hoping for – a blonde highlighted lob is so on trend right now!
Overall my Tricoci experience was phenomenal and I would absolutely recommend it to anyone looking for a pampering experience, but everything has areas for improvement, right? So here goes.
How My Tricoci Experience Could Have Been Better…
There is abundant spa water and a variety of teas you can choose from, but during the day of back-to-back appointments I found myself yearning for refreshments – a glass of wine or a small sandwich, perhaps? And I found out that customers and employees alike have to leave the spa altogether for that, disrupting the experience and scheduling. There's a small coffee bar on the upper level, and a food court on a higher floor, but nothing handy to sustain staff or customers. And next to the salon, there's a former restaurant space right there that could be a great addition to the Tricoci experience.
This place is hectic and popular. And consequently, the customer service/front desk team seems a bit overwhelmed, which for me resulted in a confusing check in experience. And post-visit, I've had a few challenges with getting a return call or email to answer a question, or trying to actually reach someone at the front desk. It's a super busy place and it can feel that way. Just my honest experience. Otherwise, everything was amazing, and I will go back for sure.
To book a Tricoci experience of your own, visit Tricoci.com.