How I Found Mine And How You Can Find Yours
In years past, I used to make a long list of resolutions and then spend too much time feeling bad about not achieving enough of them. This year, I'm intentionally being gentle with myself. I'm not even limiting myself to one word. In 2017 I began the practice of coming up with a WORD of the year instead of a list of resolutions that felt oppressive and impossible.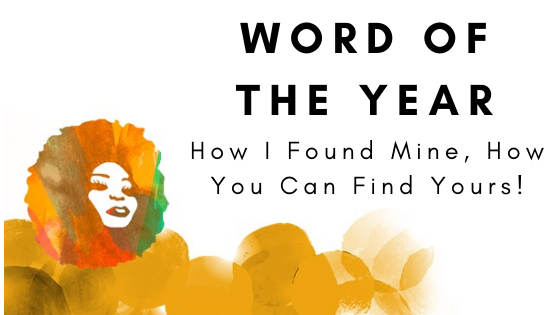 2019 was a year of loss and sadness. It was a year of unimaginable painful experiences that I wouldn't wish on anyone, compounded by difficult lessons about work, friendship and life in general that I thought I was too old to learn. I withdrew into a shell. I felt like I lost my voice. I listened to a whole lot of Tierra Whack and Fiona Apple. I found a good therapist and I'm starting to feel my way out of a dark tunnel. 2019 proved that I knew less than I thought I did. Now I know those difficult lessons and lived experiences are carrying me into 2020, stronger than before.
So funny how that 2017 Word of the Year post proves to come back again for me, once again at the end of the year my friend Karen of Chookooloonks came around to inspire me. She got me to begin journaling again, via her phenomenal e-course GLOW. And through the process of journaling, I found these words kept rising to the surface of my life. And SO funny – via Instagram I realize she also chose more than one word for this year. Great minds!
For 2020, it isn't just one word. It's FOUR. I don't know how I feel about that. But here we are. My words for the year are health, purpose, longevity and legacy. That's what keeps bubbling to the surface for me. Those words have been slowly orbiting around my mind, coming up again and again in the themes of my life. To quote myself from 2017, here's how they came to me:
"What helped me find my word? I got still. It helps to get still. In the stillness of your mind, think of your goals and aspirations. Don't fill your thoughts with past regrets or disappointments. This is about looking to your future and seeing clearly what you need for the upcoming year. You might want to fill in these blanks:
This is my year to find ____________
This year, I want to ____________
What do I want or need for the coming year (single word answers only) ____________________________
What should I do or be this year, to achieve my goals and dreams? ________________________
Somewhere in the midst of those prompts, you are likely to find your word. Or words. Or phrase."
Here's a breakdown of my words and my reasons. Hopefully sharing this strikes a chord with you or helps you come up with your own words.
Health
Probably my biggest takeaway and theme of 2019 and 2020 is this — watching your loved ones get older can be so painful and difficult. Getting older yourself can be so painful and difficult. I rolled into yet another new year with my mom facing health challenges, and it makes for a heavy heart and a lot of reflection and introspection as we begin 2020. And that's why health is my first word, because I'm directly seeing how valuable, how essential, how important your health is. How necessary it is to take care of yourself in every sense of the word. To begin this year, I'm taking the reins on my life and tackling a health issue I've been putting off for at least three years. More on that in an upcoming post!
Purpose is my second word because it's something I've been struggling with lately. My 2017 word was also purpose, and that was more directly related to this blog. But there are times within the last year where I personally felt like I had lost my purpose, my sense of purpose and that's a feeling I'm not allowing to linger for 2020. This is a year of reigniting that spark and finding my purpose again, for myself and for Afrobella.com.
Longevity is a word that's come up for me a lot lately, in different ways. It's been coming up in terms of my career, in terms of Afrobella having longevity in my career and creativity. I've seen so so many of my peers quit, or just quietly disappear. What does it mean to still be doing this when peers of mine have erased their blogs from their bios? I'm still here, still trying to be consistent in a world that cares less about blogs and bloggers than it used to. I remain committed and convinced this is worthwhile, and this year I plan to pour more of me into Afrobella.com.
I've also been considering longevity in terms of health, and I've gotten to see up close and personal that age doesn't always mean wisdom, happiness or good health. And longevity means little if you're not able to enjoy it. There's a lesson in there. Here's to finding enjoyable, healthy longevity in career and in life.
Legacy is my final word and it feels the heaviest. It feels too early somehow to consider my legacy, but having experienced some of the life changes and losses I have within the past year it is impossible not to. My father-in-law showed me exactly what a great legacy looks like. It looks like a full life, well lived, with powerful impact in every arena. The way he was remembered and celebrated by friends, family, old neighbors, former coworkers…it was magnificent. It reinforced some realizations I've had within the past few years. It made me ask myself some questions about my own life, and what I want, need and deserve in my future. Here's to finding the right answers and building the legacy I know awaits me.
Here's to a brave new year. Here's to building on, strengthening and improving our health, purpose, longevity and legacy. Happy New Year to you ?
What are your words for the year? Are you into making resolutions, or do you just try to do better every day?