One of my goals is to teach myself new things. Especially in the kitchen, where I spend so much of my time. I want to challenge myself, to keep the cooking routine and the day to day less mundane. My husband and I launched our foodstagram @HomeCookingCouple (soon to be fully realized at HomeCookingCouple.com) and it lit a fire in me to keep trying new things and pushing my own culinary boundaries. My goal is to make the dishes we crave, to master new crafts, and to reinvent what's old into something new.
First up, making pasta from scratch. I watch a lot of cooking videos and tv shows, and I am fascinated by the possibilities for people who make their own pasta. My in-laws used to live near an elderly Italian couple, and the wife would always have fresh pasta and homemade ravioli. It seemed like an insurmountable project to me until this year, when we were all stuck at home for so long. I was looking at ways I could maximize the use of my stand mixer, and projects I could throw myself into as the winter progressed in Chicago. My husband and I were gifted this essential piece of kitchen equipment for our wedding, 18 years ago! It has been a sturdy kitchen workhorse ever since, but after making cookies, cakes, and breads I started to wonder — what else can it do? I know there are a ton of attachments for this thing, let's try something new!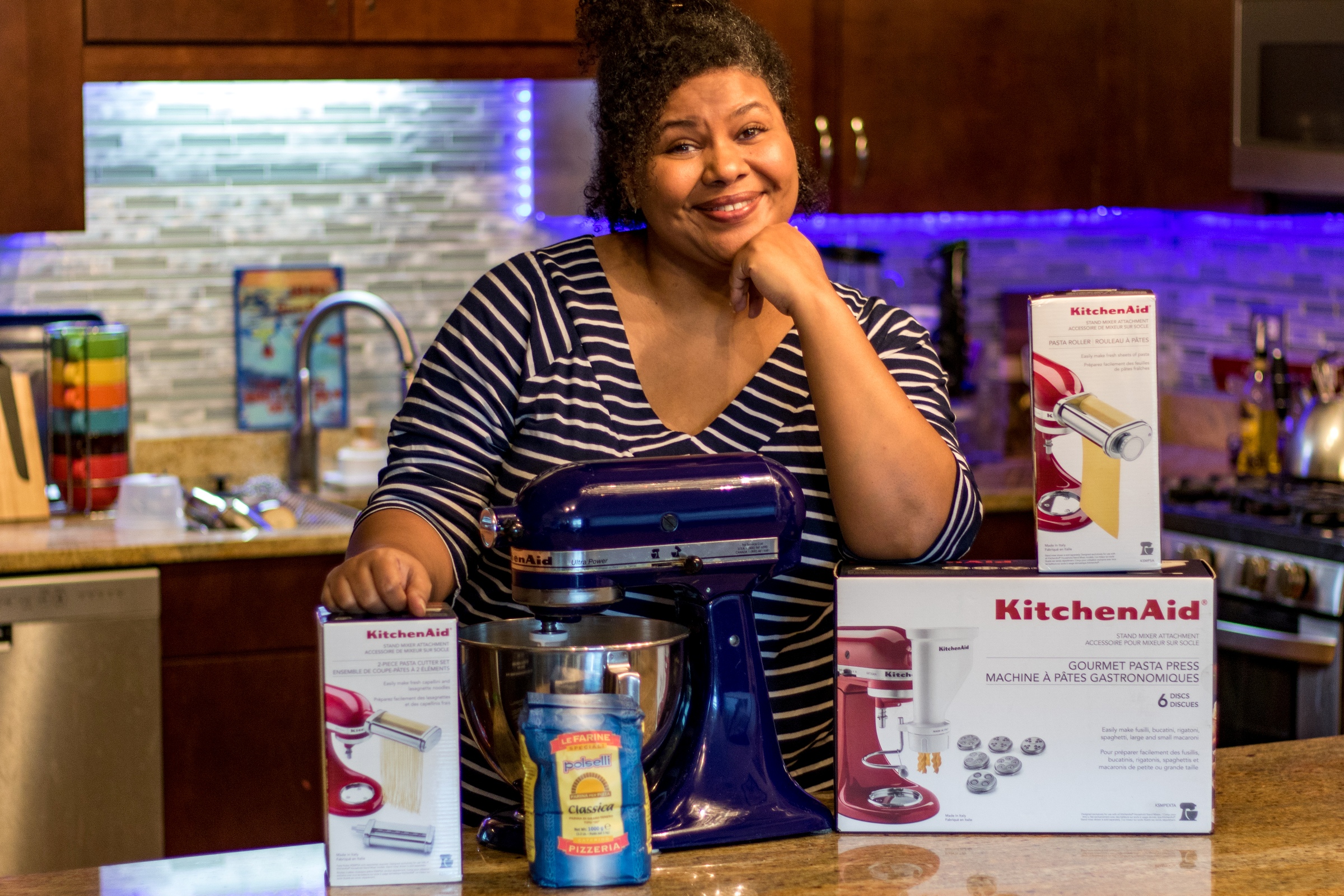 Well Christmas came early to our condo, thanks to Abt Electronics ! They had everything I was looking for and more. If you're not familiar, Abt has an incredible legacy and uniquely Chicago history. In 1936, Jewel Abt gave her husband David $800 to start a business and the rest is history. Abt began with 3 employees in a small store in Logan Square. Today Abt is one of the largest independent single-store appliance and electronics retailers in the country and employs more than 1500 experts. So if you make a purchase from Abt, you're helping a longstanding Chicago business and their employees keep going in these unpredictable times. AND you're getting yourself or a loved one something awesome. It's a win win!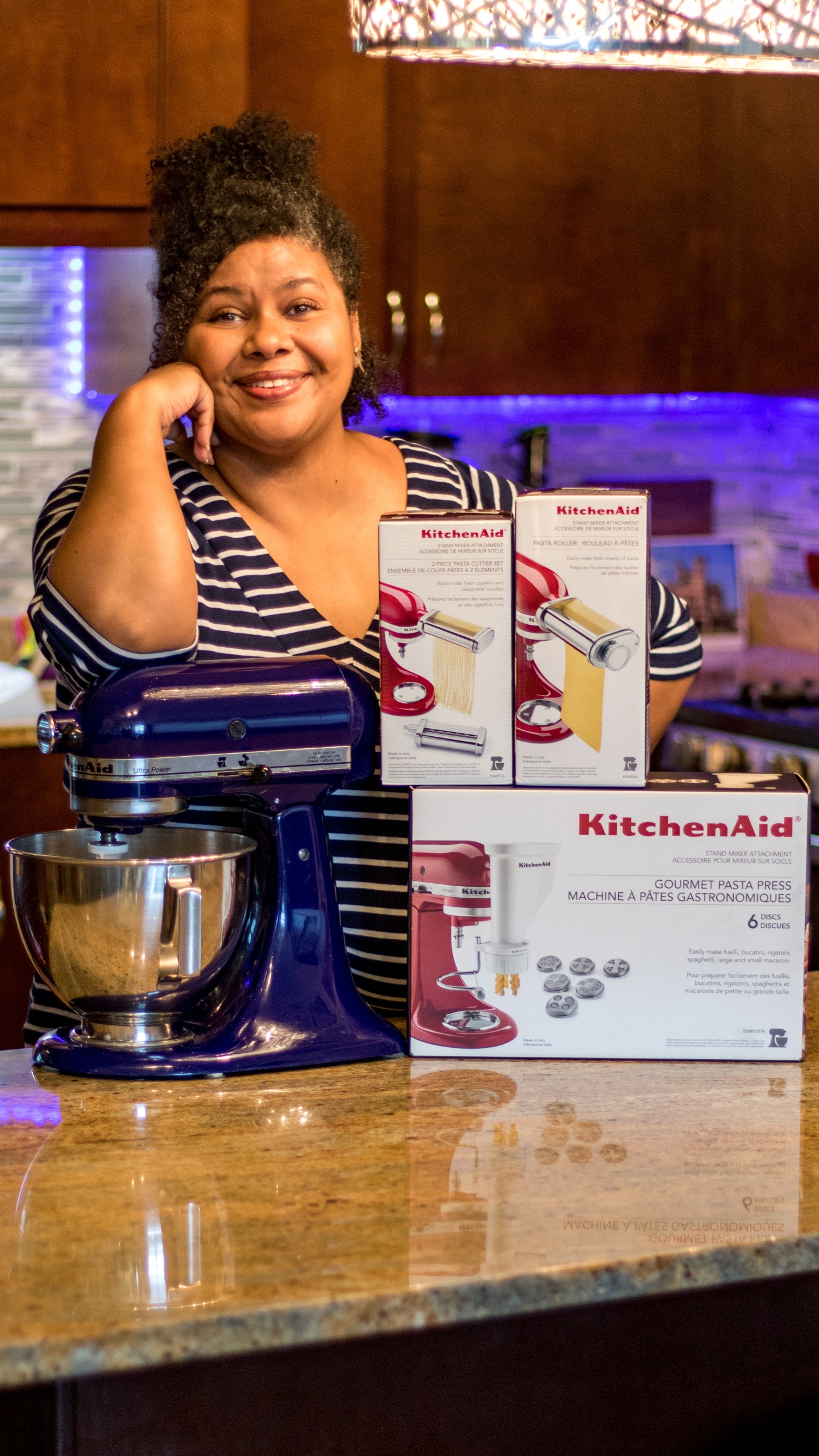 My new friends at Abt sent over this incredible pasta press attachment, plus the pasta cutter attachment set, and the necessary pasta sheet roller attachment. I've got everything I need to make pasta! With these attachments, I can make everything from spaghetti to lasagna. Not just that, I can control what goes into my pasta. So if I want to make whole wheat pasta instead, or add veggies like spinach or diced mushrooms to the dough, I can!
For starters, my husband figured we should start simple and follow the recipe that came with the pasta press. On its face, pasta seems incredibly easy to make – eggs, flour, salt, a little water if needed. But it requires precision and courage, because there will definitely be a point in your initial attempt where you're convinced this isn't working and wasn't worth the effort. Stick it through and all will be well! If I can make pasta from scratch, so can you!
We decided to try our hands at spaghetti, and rigatoni for a different kind of noodle. The dough initially looked way too dry and crumbly, like we had made sawdust clumps instead. After a quick rescue call to some relatives who have done a pasta making class before, we were back on the right path. Just a tiny, tiny bit of water and the action of kneading with your hands makes the difference.
Once our dough came together, the rest was a snap! Place walnut sized balls of dough into pasta maker, and watch the magic happen. It was so amazing! And now I want to buy every pasta making item I can find online to keep the journey going. I'm gonna need a drying rack and some ravioli tools in the future! The next thing I want to try is lasagna sheets. Or maybe, fettucine. Or…I don't know yet! Please share your fresh pasta making tips, recommendations, or recipes with me, I'm brand new to this and ready to learn (and eat)!

In conclusion! Making our own pasta definitely turned out to be a successful pandemic project, and it will go on to become part of our regular lives. I think once we've got this whole thing down, it might take 15 minutes to whip up some fresh pasta which is amazing! The whole process was super fun, incredibly easy, and opens up a range of possibilities in terms of things we can make ourselves at home.
I believe in 2020, the most considerate gifts will allow us to stay home, stay safe, save money and provide for ourselves. These pasta making attachments check off all the boxes! If you're looking to give yourself or a loved one something that gives a home chef the next level of culinary tools to improve their kitchens and their lives, it's worth considering. Besides these items, Abt Electronics has something for everyone, so if you're looking for something last minute in the Chicagoland area, OR if you want to treat yourself to something you deserve post-holiday or any time of year, honestly – check them out and support a valuable local Chicago business. You can follow them on Instagram @ABTElectronics.
This is just the first of my pandemic projects. What should I try next? Tell me! I'd love to hear your pandemic projects and pasta making tips.
These items were gifted, but the post was not sponsored. These opinions and experiences are all mine!