Happy Thanksgiving! I hope you had a beautiful, relaxing day filled with family, fun, and turkey! Now part deux of Thanksgiving weekend begins. The part with the shopping and the shoving and the STRESS.
Online shopping photo via Shutterstock
Let's make one thing clear – my Black Friday street shopping days are in the past. Now the mere thought of heading out into the madding crowds for a Black Friday shopathon is enough to make me want to go put on a strand of pearls just so I can clutch them in horror. It is cold and people lose their good sense on Black Friday. It's not going to happen for me. BUT I know so many of you bellas who consider Black Friday to be a sport, and even more of you who are seeking out killer deals not just in stores, but online. I'm SO here for the online sales! And if you must endure the physical shopping, pay heed to Lucky Magazine's Black Friday survival tips.
There are many, many websites and blogs out there with super well-put-together Black Friday and Cyber Monday shopping lists. Brad's Deals lists ALL of the major ads. Gizmodo has an excellent list that puts all of the tech items together. The Curvy Fashionista did an amazing job listing all of the plus sized fashion deals. K is for Kinky got all the natural hair listings down, and ChiTown Fashionista features all of the unique Chicago style deals around.
And me? My list will feature a little of everything I'm into. Makeup, hair, fashion and more! Without further ado, let's get into these deals!
Makeup and Beauty
Avon
Believe me when I tell you, Avon has the stocking stuffer game on LOCK. I'm not just saying this because I'm a brand ambassador. They've got super cute stocking stuffers!
Beautorium
All natural beauty buys, including incredible serums and such.
bliss
Enjoy up to 50% savings on select luxury items!  Also, save 30% on beloved bliss and Remede bundles and sets, and save 20% on a selection of Bliss, Remede and Elemis products. Offer valid November 23rd – 27th through CYBER MONDAY as well) http://www.blissworld.com/
drugstore.com
drugstore.com will be offering Facebook exclusive offers to all fans. The deals extend across all categories and will be revealed at random each day leading up to Black Friday. On Black Friday, the number of deals offered will increase in both number and value.
– 26 total deals; 4 deals per day Mon-Thurs, 10 deals on Friday.This is happening throughout the week of November 19th on www.drugstore.com; Check out their Facebook page for the exclusive offers.
EVE PEARL®
Products up to 60% off (while supplies last). Enter Code  BPCM2012 – starts Thursday, November 22, 11:00 AM EST (NYC Time), ends: Tuesday, November 27, 11:00 AM EST (NYC Time). For online sales only at EvePearl.com.
Lush
· Spend $100 to get free ground shipping PLUS a $10 e-gift card
· Spend $120 to get free 2 day shipping PLUS a $10 e-gift card
Shu Uemura
StriVectin
StriVectin, the clinical anti-aging skin care expert, is offering a FREE full size StriVectin-SH Dermal Infusion Mask ($49 Retail Value) plus free shipping with any online order on strivectin.com beginning Black Friday, 11/23 through Cyber Monday, 11/26. Enter the code JOY at checkout and get your skin holiday party perfect.
Urban Decay
DEAL #1: Super-Saturated High Gloss Lip Color Collection for $49 (a $140 value). GO BIG OR GO HOME. Urban Decay is offering all SEVEN of their cult-favorite chubby lip pencils for just $49 exclusively on Black Friday (Friday, November 23rd) on www.UrbanDecay.com
Natural Hair
11-23 through 11-26 – 20% off $25 or more with code BBBF. Free Shipping with code BBCM.
Cara B Naturally
BOGO at Walgreens.com, Buy One Get One 50% off! Click here to buy!
We're offering $10 off your choice of any of the Jane Carter Solution Hair Care Regimens! Simply select the best regimen for your hair type and texture, and then enter Coupon Code BLKFRI2012 during checkout. This coupon is valid from 11/22/12 midnight until 11/25/12 midnight. And remember, a FREE Sample comes with each order!
Ouidad
Black Friday Weekend Beginning Friday, November 23rd through Sunday, November 25th, head to Ouidad.com to receive 25% off all orders by using the code FFCURL during check out
Cyber Monday On Monday, November 26th, continue to take advantage of 25% off all orders by using the code FFCURL during check out, also receive 2 days of free shipping on all orders.
Fashion
Asos
Eloquii 

50% OFF EVERYTHING + FREE STANDARD SHIPPING. Valid November 23, 2012 on eloquii.com only. Enter promotion code FRIDAY50 at checkout to receive 50% off your entire purchase including markdowns. Outlet merchandise is excluded from the 50% off discount. Cannot be combined with any other coupon, be used with associate discount or applied to previous purchases. Not valid at any The Limited store locations, THELIMITED.com, or eloquii store locations. No returns or exchanges allowed on Final Sale items. Free standard shipping on all orders within the continental U.S.
IGIGI
IGIGI by Yuliya Raquel Up to 70% Off! Thanksgiving Sale! Code: "GIVETHANKS12" from Thursday, Nov. 22, 2012 at 12.00noon/PST to Tuesday, Nov. 27 at 12.00noon/PST.  FREE SHIPPING 11/19/2012 – 11/30/2012 for all Continental US Orders of $150+ FREE Ground Shipping.
Lane Bryant
– get 50% off almost everything (excluding Lane Collection, DKNY Jeans, Seven7, SPANX and Reebok) – use HOLIDAY50LB at checkout.
Monif C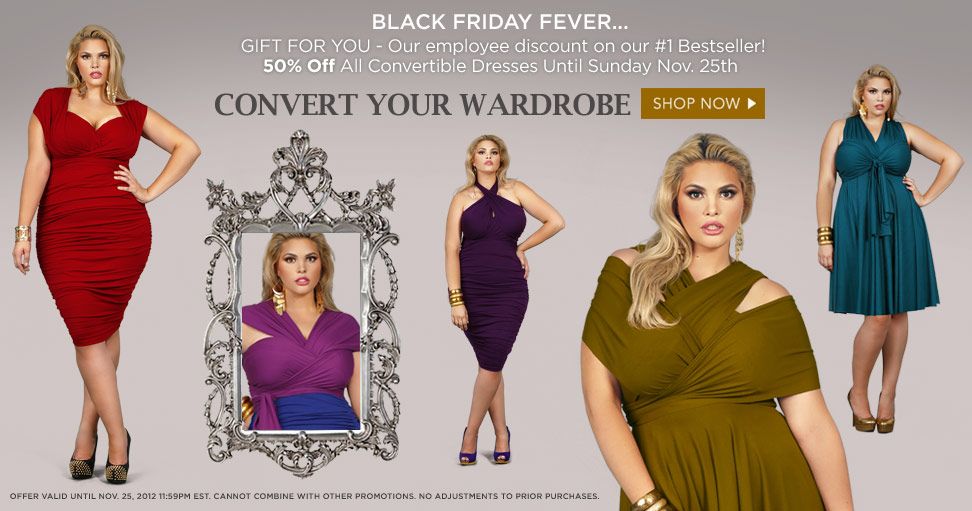 Queen Grace Collection –
Queen Grace Collection Celebrates BLACK FRIDAY with a 60% off sale event! Every pendant, necklace, bracelet and bag in our QG accessories department will be ON SALE November 23rd through November 26th ONLY! Rock bottom prices on some of the hottest styles this season! SHOP EARLY! REDEEM CODE WEARQG60 while supplies last, limited quantities, no refunds, exchanges or double coupons permitted.
Ralph Lauren – click image to shop!
Rachel Roy – click image to shop!
Sofistafunk
QVC
Other Fabulous Things
Bluehost
Bluehost my server, is having a Cyber Monday sale and you can sign up for as low as $3.95 per month! Click here to use my affiliate link.
6am EST and 9am EST mobile-only Door Buster Sales
12pm EST, Mispriced Mystery Products.  Gilt will misprice products throughout the site at 12pm, 3pm, 6pm and 9pm EST.  Think designer goods for $20, $40.  The mispriced products will not be revealed – happy hunting!
Cyber Monday: At 11:45am EST, Gilt will launch a new sale called "Free Fall," which includes sales in Gilt's Women's, Men's, Home and Taste stores that will only be available for approximately 5-10 minutes. Throughout that time frame, the prices will continue to drop until the sale ends.
12:00pm EST sale includes fabulous over the top gifts at insider prices
New "Free Fall" sales will continue at 3:00, 6:00 and 9:00pm EST
Layla Grayce and Zinc Door
Layla Grayce 20% off entire site with code givethx (November 22-29)
Zinc Door 20% off entire site sale (November 22-29; still need to determine promo code)
Max and Chloe – click image to shop!
See anything you need? What will you be buying this weekend?