In 2009 I moved to Chicago from Miami. Ever since, the number one question most people ask me is "what were you thinking??" The question can come from anyone at any time of year, but it really picks up in the winter. It's "what were you thinking" coupled with "what are you doing here?" and around January, February and March I really start asking myself the same questions. That's when you'll start seeing signs of spring and getting a taste of sunshine and then the bitterest cold will just swoop back in to remind you who's in charge.
Hats off to my born and bred Chicagoans and Midwesterners who know this life and love the cold. Been here for a decade and I still don't love it. I don't think I will ever LIKE snow. I hate what winter does to my skin, how it makes me dry and ashy from head to toe. But after being here for a decade, I've learned how to deal with winter. I've figured out skincare products that keep me moisturized and well nourished, focusing specifically on my face, neck and body. Allow me to share my winter skin heroes with you!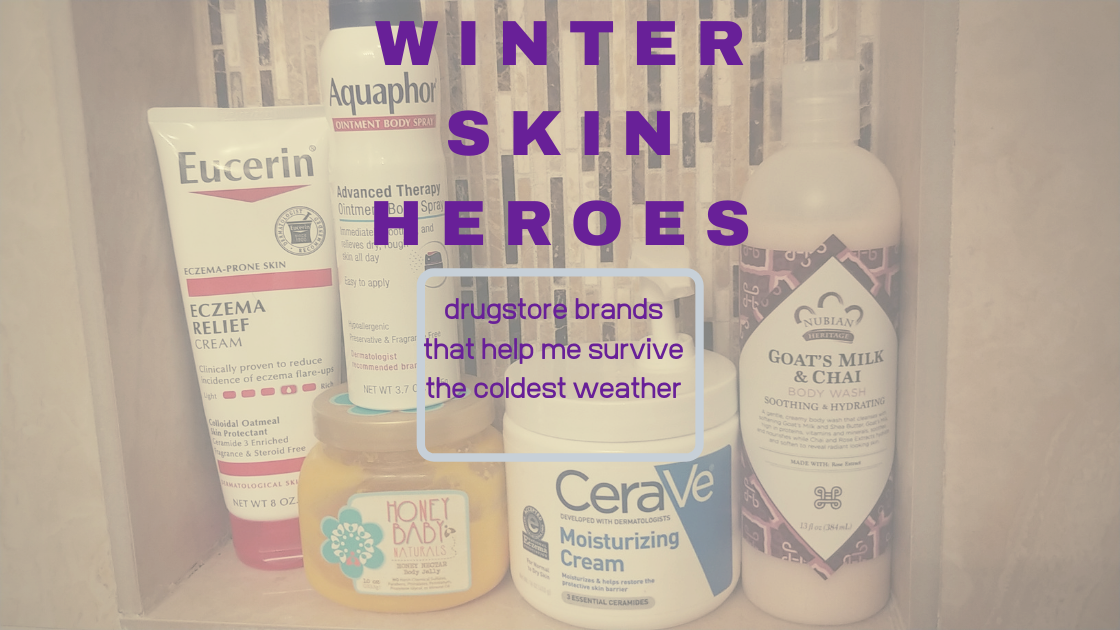 When I first moved here, I had a perception that I needed expensive, heavy creams. It turns out I just needed heavy creams and there are some really good ones you can find at drugstore prices. Don't sleep on CVS Beauty – IMO they're doing such a great job curating a vast selection of beauty finds, made in the USA to imported from all around the world.
CeraVe – Don't sleep on CeraVe, this brand makes SO many incredible products for face and body, right now a few of their moisturizers are winter favorites of mine. Lately I've been using the Moisturizing Cream a lot – it's a barrier-reinforcing heavy moisturizer that keeps flaky winter skin at bay. I also love the Skin Renewing Night Cream, before bedtime I layer that on over my acids and other skincare benefiting ingredients (Mandelic, Ferulic, niacinamide for example).  I'm dying to try the SA line and the Healing Ointment because it gets SO much love on Twitter. And get familiar with the foot lotion, it's a game changer for flaky, dry winter feet!
Neutrogena – I have long been a fan of most things Neutrogena makes (for example, Rainbath has been a fave for years). But their Hydro Boost line is a game changer for me. That soothing blue packaging lets me know good things are in store for my skin, and moisture is on the way. I particularly love the Hydro Boost Hydrating Serum and the Hydro Boost Gel-Cream for winter replenishing.
Dove Body Wash – Over the summer months, I got into some body washes that left my skin feeling squeaky clean. That isn't necessarily good and especially as you get into winter weather and the resulting temperatures, the results can literally show on your skin. The body washes I was using before had me out here itchy, ashy and dry. Not a combination that's appealing. At Costco, I decided to treat myself to some deep moisture Dove Body Wash and the difference is amazing. My skin doesn't feel tight or itchy anymore, even before I apply lotion!
Nubian Heritage – Nubian Heritage makes some of my favorite body washes and lotions, hands down. The legacy of the brand, the combination of fragrance and ingredients – all perfect for my winter skincare needs. Some of their blends are so perfect for cold weather, especially their Honey and Black Seed, Goat's Milk and Chai and the Shea Butter line.
Honey Baby Naturals – You may have seen me raving over this indie, Chicago-based skin and haircare brand over on Instagram. I am LOVING Honey Baby Naturals for winter skin! The Honey Nectar Body Jelly is so great after bath, and it's 100% petrolatum free! I like to layer it on after a heavy cream moisturizer. And the Bee Sweet Face and Body Butter is just plush and smells divine.
Eucerin – I think of Eucerin as serious skincare business, and if you're not someone with sensitive skin or particular skin protection needs, they're a brand you may typically pass by. Eucerin is never going to be a brand with fancy fragrances or sexy packaging. They make face and bodycare products that work. If you're dealing with cold weather skin issues like seasonal eczema, you may want to get familiar with their eczema relief cream, advanced repair cream and advanced repair lotion. 
Aquaphor —  Aquaphor is THE ointment company, and it turns out that ointments and balms are the secret I was missing out on in all my years of winter skin care. Instead of petroleum jelly, I've been using Aquaphor healing ointment as my final skincare layer. And for body, I'm obsessed with the new Aquaphor advanced therapy ointment body spray to lock in my post-shower moisture.
What are you using to get through the cold weather skincare blues?
If you shop via the links in this post, you'll be supporting Afrobella.com through affiliate sales. Thank you!