This post is sponsored by Brother
Growing up in the Caribbean gives you a different perspective on style and fashion, and so much of that has to do with our sewing culture. In my homeland of Trinidad and Tobago, if you visited the downtown streets of Port of Spain you will find stylish little boutiques in bustling malls, and anchoring several major downtown intersections, you'll find large cloth stores piled high with bolts of all colors and textures. I grew up near Port of Spain and remember many visits with my mom, sister and aunts to stores like Jimmy Aboud the Textile King, Queensway, and Mode Alive to shop for cloth. My mom couldn't sew and we didn't have a sewing machine, so we would then take that cloth to a seamstress to help make the vision come to life. From curtains for Christmas to perfect Easter dresses for the ladies of the family, a visit to the cloth store and the seamstress was an essential, memorable part of my upbringing.
I have so many memories of choosing cloth and visiting seamstresses, some with specific areas of skill. Mrs. Thomas made curtains and work dresses for my mom in the 80's. We had a lady named Dolly who was an expert in smocking, my mom loved me in a smocked dress from ages 7 through 9 years old. When I was a teenager, I designed a series of maxi skirts with a lady who lived on Bengal Street in St. James, and I even helped to design my high school graduation gown with help from a famous Trini designer!
In high school we studied clothing and textiles, but I was absolutely abysmal at it. Honestly, the teacher and I didn't have a great connection and the machines were antiquated. All I remember successfully completing was a pillowcase. Despite my lack of demonstrated sewing skills, I've always been a dreamer. I have always had these sketches and ideas in mind. Never before have I known what to do with them myself. I have wanted to learn how to sew for years, and finally I have the time and the tools I need, thanks to Brother! Meet my new friend, the Brother CS7000X – a sewing machine that's perfect for beginners with big dreams, like me!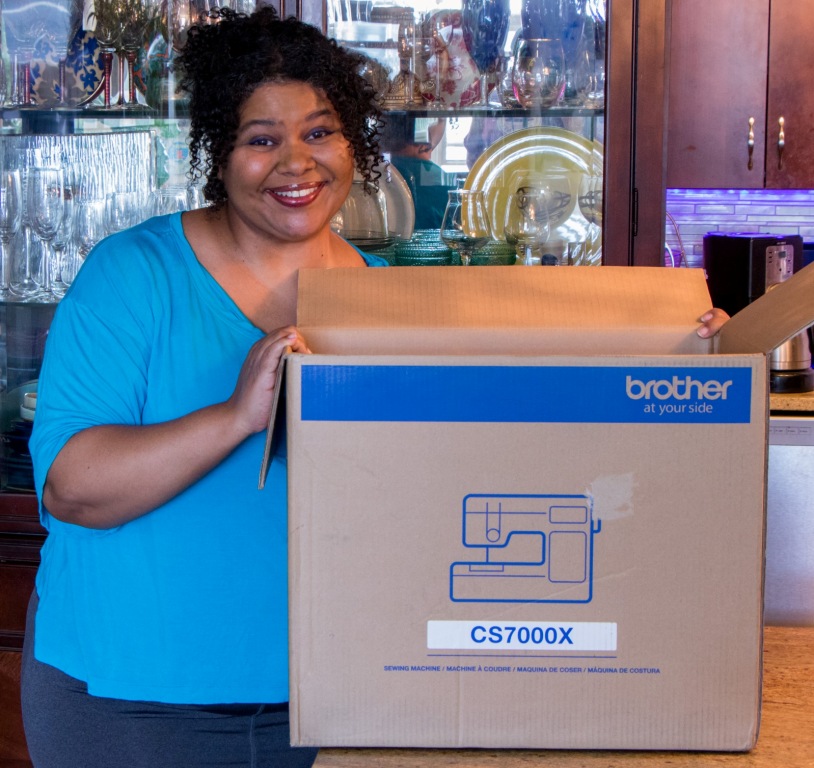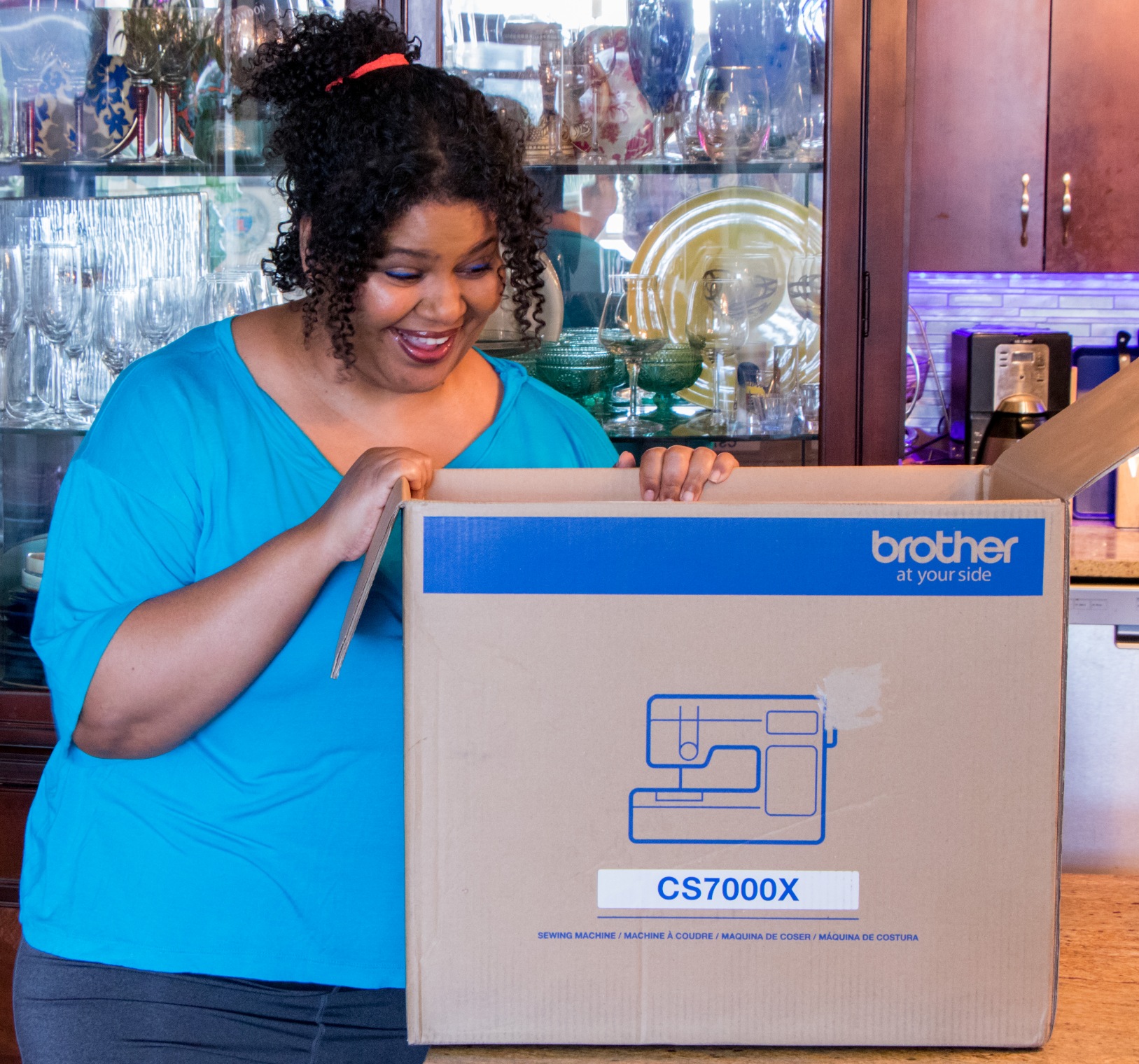 There is quite a learning curve to figuring out everything you need to do to successfully complete a sewing project. What I love about this particular sewing machine is how easy it makes it for beginners like myself. The Brother CS7000X comes with a LCD display, plus 70 unique built-in stitches so you can sew, quilt, and make buttonholes incredibly easily. The needle threader is automatic and jam resistant to help to push your thread through the needle easily, load your bobbin, and keep it in place. It includes stop, start, and reverse buttons and a variable speed dial, to prevent me from feeling like my project is out of control.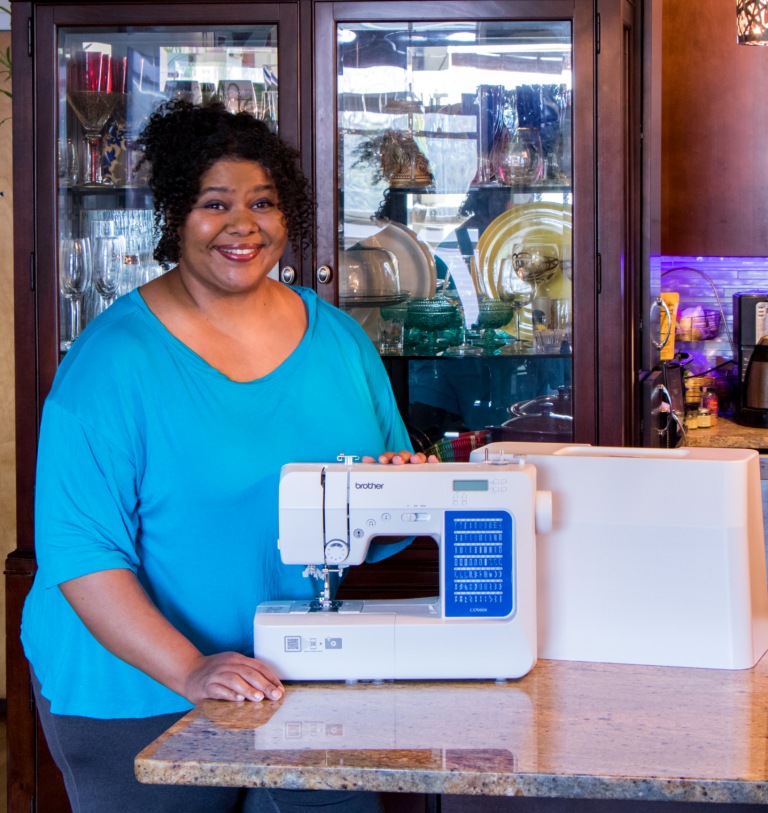 Every review I've read online tells me that this is the machine for me. The machine was designed to make everything easier and more user friendly. I've been taking time to thoroughly read my instruction manual, as well as use the internet to educate myself on how to begin. I was thinking of starting with a duvet cover as my first learning-to-sew project, but I'm being advised by folks I know and love (and who know me well) to start with something smaller, like a throw pillow. I would LOVE to hear from you if you sew, let me know how you learned and if you have any tips for me! I'm looking for all the advice as I begin. I'm immersing myself in the world of Brother Sews, their social platform on Facebook, Instagram, Twitter, and YouTube – each page offers helpful guidance and lively communities sharing info. Brother Sews is actively providing SO much helpful and inspiring sewing information across social. I realize I'm joining a new community and a longstanding tradition and I'm so ready to LEARN.
For me, this is THE perfect time to learn how to sew. All throughout the pandemic, I wanted to find a hobby that would lead me to spend less time in front of a screen, mindless scrolling. I wanted a hobby that led me to spend more time actually creating, making, and doing something immersive and exciting. Plus, this machine with all the bells and whistles and user-friendly features is less than $200! As soon as I buy some cloth and figure out a project, it is ON. I want to make that duvet cover, some throw pillows, a trapeze or babydoll kind of dress, a sweatshirt dress…so many things! Please share your patterns and best tips with me. I'm planning to go cloth shopping soon and I fully expect to be overwhelmed by the options.
I plan to share everything I make and learn via social, so I hope you're following me! Thanks so much to Brother for providing this machine, this will be a game changer for me. I'm so excited to be able to literally try making my design dreams come true!
This post was sponsored by Brother International but the excitement and opinions are all my own!