I've been working from home for myself since 2009 and it's been an ongoing lesson in self-discipline and personal management, for real. You need knowledge of self to keep on this erratic entrepreneurial path for the long haul, and I have a full understanding of my habits, good and bad. I've come to realize the ways in which I hold myself back, as well as areas for improvement that could make an immediate difference. For starters, I was not making my home office the most productive space it could be. There was a lot of room for improvement.
Now there are so many of us who work from home (and continue to work from home occasionally, even though most offices have reopened around the world). One difference between your actual workplace versus your home office – you have more immediate control over your home environment. So, it's important to create a comfortable and productive space where you can focus and try to get stuff done without any distractions. But life can get in the way and make it challenging to create that ideal space, much less maintain a work-life balance when you're working from home.
In the quest to improve my productivity, I realized that I needed to revamp my home office. Now I'm not there yet, but changes have been made to my current space and the difference is notable enough to share. So my friends, here are a few home office items I currently have (and a few I have my eye on) that help me get through the work day without the mid-afternoon slump, AND some hopefully helpful tips to help you improve your home office space to make the most of your workday wherever it may be.
Boring But True — Decluttering and Organizing Works
The Pisces in me tends to dwell contentedly in clutter, but I must admit — it can be difficult to focus on your work when your desk is overflowing with papers, files, and books. And for me, probably some makeup, nail polish, and hair items I'm reviewing. It can be a lot. But here's what helps me – every day, I try to take some time to declutter my workspace before even beginning to work. I'm great at stacking loose paper and books I need to reference in a pile on my desk, but do I need those things right away? Can they be set aside in piles for a more streamlined, project-based approach? Probably yes.
Begin by clearing your space of anything that you don't need right away. Then, when you've cleared away the clutter, organize your workspace in a way that makes sense to you. Everyone has their own system, so figure out your own. Some people use desk trays, filing cabinets, or storage boxes to keep everything in its place. I can be an out of sight out of mind person, so clear boxes are helpful for me. Last year I went old-school and bought a Trapper Keeper to keep a specific project in place and using it brings me joy. Colorful clear photo storage boxes also help me keep my stacks of papers organized until I'm ready to file or shred them.
But Still, Personalize Your Space
I hate a boring, blank workspace. Personalizing your workspace can make it feel more inviting, makes you not mind staying, and help you stay motivated throughout the day. I say hang up some artwork, add a plant or two, get cool frames for a few of your favorite photos. I love an unusual lamp or light fixture, and I actually like the neon sign/LED sign trend for office spaces, it can add a little pizzazz to an otherwise mundane room you have to spend a lot of time in. If your office space feels blah, you can add some color with a fun rug or curtains to help block out the view (if it's distracting or too bright).
Think of Your Poor Back and Find the Right Office Furniture
Sitting all the time is bad for your health in a variety of unsettling ways, but it's also a necessary part of getting work done.
If you're working from home, chances are you're spending a lot of time sitting, so investing in ergonomic furniture is an investment in your best interest. For years I sat in a cubicle on a chair that wasn't great, and I could feel the difference over time. Getting the right chair and desk can help reduce the risk of back and neck pain and help to alleviate the other issues that can arise from sitting for long periods of time. Honestly, getting a standing desk was a game changer for me and for my husband (we both work from home). His is from IKEA and mine is by Flexispot. I love my desk — I wish it had a drawer or two, but that's an easy fix. Having a standing desk has been the ultimate afternoon slump buster, when I find myself getting sleepy or bored I can put on some music, stand and have a dance party while I push through the work that needs to get done. Click here to check out Flexispot's options, there are many to choose from!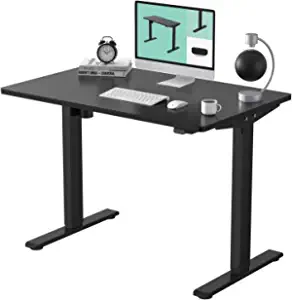 Consider a desk that allows you to adjust the height to your liking, as well as an ergonomic chair that supports your neck and back. I spent too many years sitting in a cubicle at a chair that wasn't right for my body. Now that I'm 100% in control of my set-up, I realized there's so much more to office chairs than I thought. And being plus sized, I discovered that I also needed to consider weight limits on chairs – never put much thought into that before! Not every chair is made for bodies of every weight, and you want to feel comfortable every day, instead of anxious about a chair that may not be the right one for you. Especially if you need to spend a lot of time in it. Also, brand new office chairs are crazy expensive, if you're looking for something ergonomic and high quality. I got mine at Fort Pitt Hotel Furniture Liquidation, which I'd say is probably Chicago's best secret for stuff like this. It's a giant warehouse of used hotel furniture and there are a ton of incredible finds…but you need to go in person.
Keep Moving, Even at Your Desk
One of the downsides of working from home is the lack of physical activity. If you're sitting at a desk all day, it can be challenging to get the exercise you need. Also, a little physical activity can be the perfect thing to break your mental doldrums and get to a creative spurt. There are so many great under-desk exercise options on the market right now, well worth considering if your job is mostly sedentary. Right now, I've got the Cubii Total Body +, a compact, under-desk elliptical machine that allows me to get a workout while I work.
The Cubii is quiet, and this model lets you work your upper and lower body (it's like a seated rower, kind of). Also you can adjust the resistance level to make your workout more challenging, and it tracks your progress so you can see how far you've come. I'm enjoying it so far, especially during long conference calls or zoom meetings where I can get fidgety. I'm also intrigued by the new variety of under-desk walk pads, I just found one online that could be a fit for my next home office. I'll keep you posted!
Time Yourself and Take Breaks
When you work for yourself, it can be tempting to work through your lunch break or keep working late into the night, but trust me, intentional breaks are crucial. And your body will let you know when it needs a break if you don't make time for them. Avoiding break times can lead to burnout and a decrease in productivity, so I make sure to take regular pauses throughout the day. For me, a break doesn't mean taking time for a phone call or a conversation – I need a BREAK. I need silence. That's when I get up and stretch, take a walk outside, or do a quick workout. Or if I need to take a break that's about fun and getting back to a place of joy, I put on a soca playlist or some Beyonce and dance through it. Breaks like these help me to kinda stay focused and energized throughout the day.
Last but not least, I find that when I really get stuck on a task it helps me to bust out an old-fashioned kitchen timer to really focus on it for a set duration. Yes, I could use my phone or my computer. I specifically wanted something with big numbers and the option to be a stopwatch or timer, and this fit the bill. I got this timer on Amazon and it has a loud, annoying beep but all of that helps me to stay on target and get stuff done when I need to. Maybe it'll help you too!
Remember, your home office should be a place where you can focus on your work and feel motivated to achieve your goals. Making these small changes to my existing workspace made a difference for me, maybe my suggestions can work for you too! I'll be doing all of this again whenever I get my next home office. Let me know if you have any additional tips that have helped you work productively from your home space – or if you're at an office, what helps there? Let me know!