This is the first post in a series on my personal home search efforts, sponsored by Zillow.
If we have had casual in-person conversation within the past few years, it's likely that I have mentioned something about moving. Don't get me wrong, condo life has been wonderful, and we love our neighbors and our neighborhood very much. We love Chicago. What we need is space. Living through the past few years of our collective experience has truly heightened my desire for a house. It's time.
What we really yearn for is a backyard – a place to literally touch grass as needed. Years of living in the middle of everything has led me to dream of privacy, silence and peace in a way that I did not prior to 2020. I'm ready to just walk out of my backdoor and make sun tea and pull weeds for an afternoon. That would bring me joy. I want to feel nature all around me and hear birdsong in the morning. I'm ready for a different chapter.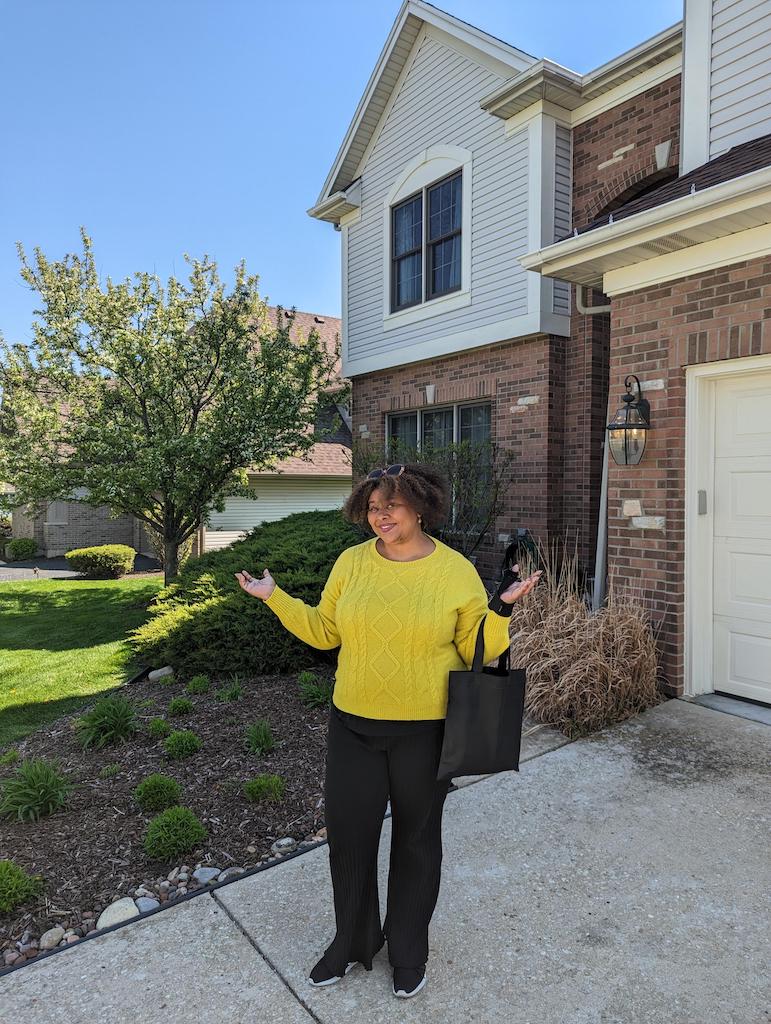 Having lived in Chicago for the past 12 years I have come to know the city like the back of my hand — the downtown bus routes, the L, walking around the city is familiar and comfortable to me. But not having driven a car in the past 12 years has made my world smaller in ways I didn't expect. Looking for housing has led us to discover so much more about Illinois, the state than I ever knew before. City driving always intimidated me, so I became a full-time pedestrian. Most suburbs aren't that walkable, so I look forward to driving again, having a space to park a car, and getting back to that feeling of discovery, independence and safety on the road in a vehicle of my own control. Lots of big changes are in store, for sure.
So where are we headed? That depends on a few factors. For now, our housing quest has more to do with the type of house and the size of the lot than where it is. What are we looking for, exactly? A house with a real yard, mature trees would be nice. An updated kitchen. Home office space so we don't disturb each other during video conferences or important calls. Room enough for houseguests or an in-law situation if need be – I think a lot about the future, if any of our relatives need a place to stay. I have a few other items on the wish list, but those are the fundamentals.
Looking has been kind of fun. Using the Zillow® app has made it easy to see what's new on the market and the handful of new search tools they've recently added helps us search faster and narrow in on only the homes that fit our needs. They have this new feature that lets you press a button to "hide a home," which prevents it from showing up in future search results (unless you change your mind later). They have another cool one that  lets you  search fast  using natural language  and of course the  Zestimate® feature, and home price history have also  been super helpful as we continue our search.   
During this journey of getting a home, we discovered that Zillow also has a whole suite of ways to help at various points through the process (including those new search methods I mentioned above). I tapped into some of Zillow's resources that help people buy a home for several reasons – mostly because of the comprehensive ease that their services provide. Everything you need is right on Zillow. You can search for a home, connect with a top local agent, get prequalified for a home loan and more – all within the Zillow app. And, they help make the process more streamlined, and understandable for someone new to the game like me.
Our housing quest has led us all over, and we've discovered so many suburbs and small towns with their own unique character, history, significance, and culture. I look forward to seeing where we wind up, there's so much possibility there. It's exciting! And more than a little stressful. This decision is a big one and has led us to change our lives in many ways. It means going out less, it has meant heightened awareness of how much everything costs (and has increased over time). I shop way less than I used to, I go fewer places than I used to. Saving and stacking and trying to be aware every step of the way. It's not easy. I've become the boring friend who doesn't go out anymore, who doesn't go to the pop-up shopping events, who's quiet and off the radar. There are a few reasons for that and I'm fine with that – this time is all in pursuit of a goal. I'm getting closer to my dreams.
We aren't alone, becoming homeowners is a dream for so many. But it's not that easy and it's been taking us years to get there. Literal years. Sitting back and watching the market fluctuate has been wild – from 2020 to now has been like a rollercoaster in terms of home prices, mortgage rates, and availability. Right now, there's a disparity in the rate between home demand and supply that we're noticing big time – there just aren't as many houses on the market as there were let's say a year ago. And there are acknowledged disparities between ethnicities and homebuying rates to acknowledge and overcome.
I know  I'm not the only one looking to make a change. I wanted to get advice not just for myself, but for my readers and audience. There's always an article out there saying it's the wrong time to buy or sell a house, or now's not a good time to become a homeowner, but the "right time" to buy is when it's "right" for you and your family. So how can we all get closer to our goal, if we want to own homes in the not-too-distant future? I got these helpful tips for aspiring home buyers from Tyrone Law from Zillow:
Understand what you can afford. As mortgage interest rates fluctuate, you should start with a mortgage calculator and Zillow's affordability tools to understand what you can realistically afford on a monthly basis. You can also explore down payment assistance programs that may be available to you on every listing on the Zillow app. 
Finance first. 40% of people get their home loan first.  It's important to know the difference between being pre-approved vs. pre-qualified. Ideally you want to get pre-approved – not just pre-qualified – for a mortgage first and you can start that process online with Zillow. You also want to shop around for a lender to make sure you're getting the best rate and a loan officer who will be the best partner for you. 
Hire the right real estate agent. We're in a time when people do everything online, but when it comes to home buying – it's most advisable to work with a local expert and see the places that are top of your list in person. 89% of homebuyers use an agent – and for good reason. With the market's rapid shifts, you want to hire an expert who's been there before and has a pulse on all the changes happening in your neighborhood. Zillow is an online tech company so you can begin your search on the site, but they can also connect you directly to a live, top local agent who can talk you through it and literally show you homes in person. And you can do your own research on the Zillow homepage to read customer reviews and see the agent's recent sales history before you interview your top candidates.
Get tech savvy for a speed advantage. Take advantage of new technology like virtual 3D home tours and interactive floor plans to save time and act quickly when the right home comes along. These online home tours can give you an immersive experience of a home from the comfort of your living room, so you can narrow down your options and tour fewer homes in person.
OK! So the goal is to stay ready so we don't have to get ready. So far, so good. The quest continues — recently I had a really illuminating conversation with a Zillow agent and loan officer – more to come on what I learned there in post number two, because it's helpful info for anyone looking for a home of their own. I learned SO much of what to look for and what to watch out for. And I also got excellent advice from my mother-in-law and my dad, both of whom have had very different home buying experiences in different countries through the years. Despite their geographic differences, their advice is the same – this is a big decision, and it must feel right for both of us. It's not a process to be rushed. Take your time and look as long as possible – because ideally, whatever we find will be our forever home. Makes sense!
If you're already a homeowner or on this quest as well, please share your experience in the comments! I love hearing stories and helpful advice from those who have been through it.
This post was sponsored by Zillow, but the experience and opinions are all mine.