This post was sponsored by Mielle Organics.
In beauty and haircare, innovation is the name of the game. Top brands are continuously exploring new ways to include buzzworthy ingredients. If customers are searching online for new ways to increase their hair length, strength, moisture, or shine, there's a brand looking to deliver the goods on the retail shelves. One brand that always gives the customer what they're seeking is Mielle Organics.
I've been familiar with Mielle Organics for many years now and it's been incredible to watch the brand grow. What I admire is the way they continue to evolve — there's always a new launch or ingredient combination, or cool new partnership or charitable initiative. Founder and CEO Monique Rodriguez keeps her finger on the pulse of what her consumers are looking for, and the brand keeps bringing out new and intriguing product lines with ingredients intended to address specific natural hair needs. New on my radar is their Avocado & Tamanu Anti-Frizz System, a product line that makes use of cold-application technology – something I'm much more used to seeing in skincare, instead of hair care.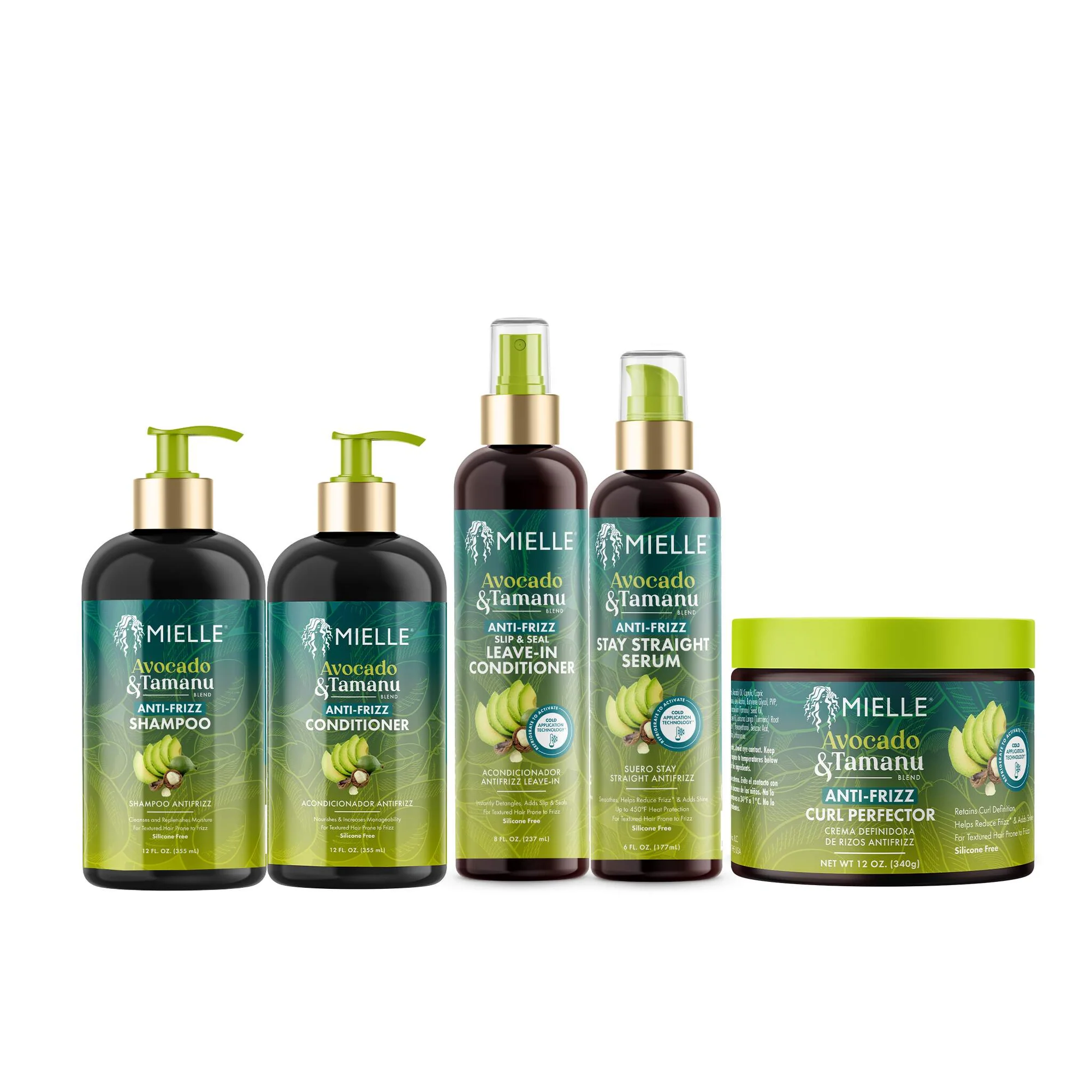 They sent me the complete system to try out, to gauge my thoughts on the line as a whole. I don't typically do straight looks, so I didn't try the Stay Straight Serum. But I really enjoyed the fragrance and feel of the Mielle Avocado & Tamanu Anti-Frizz Shampoo and Conditioner – the scent is so light and clean, and it left my hair feeling soft and fluffy, not weighed down by oil. The Slip & Seal Leave-In and Curl Perfector are intended to be used when chilled, and refrigerating before use makes a big difference to the texture of the product. The Curl Perfector feels significantly thinner in density before cooling. After a little time to chill in the fridge it feels like a thickened pudding, cool to the touch and delightful for styling during these humid summer temperatures. The Slip & Seal Leave-In feels great on hot days, it's a great summer styler for my bellas who love oil-based natural hair products and want to feel cool throughout the hottest season.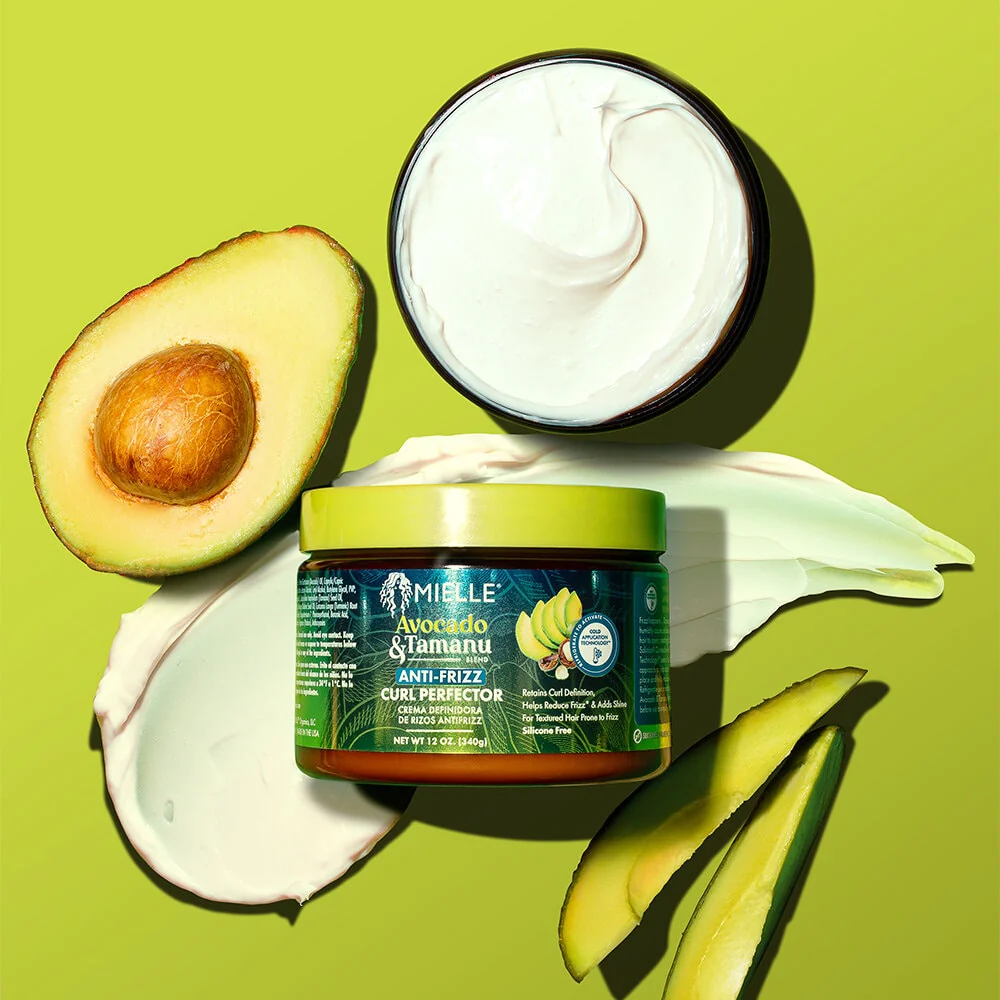 I've been seeing a lot of buzz and I had quite a few questions about Mielle's new product line, so I wanted to get the direct scoop from Monique herself. As founder and CEO, she's very hands on with the business she created, and she gave me official answers about the Avocado & Tamanu Anti Frizz System as well as the direction of Mielle Organics in general, for any consumers with questions of their own:
Afrobella: Tell me about this particular product line, avocado and tamanu. What does it promise for coily, curly, dry hair like mine?
Monique Rodriguez: The Avocado & Tamanu Anti-Frizz System is the first collection from Mielle® specially formulated to target frizz triggered by dryness and humidity. This versatile line features products to achieve both curly and straight frizz-free styles. For best results, use the collection as a system: Mielle Avocado & Tamanu Anti-Frizz Shampoo, Conditioner, Slip & Seal Leave-In, and Curl Perfector (for curly looks) or Stay Straight Serum (for straight looks). To up the cool factor, the Leave-In, Curl Perfector, and Stay Straight Serum feature our proprietary refrigerate-to-activate Cold Application Technology, which naturally closes hair cuticles tightly to block out humidity. Borrowed from popular health and beauty trends, this cold science allows consumers whether curly or straight to say goodbye to frizz and hello to long-lasting smoothness.
Afrobella: I'm used to this concept in skincare, but I'm new to it in haircare. What was the intention behind the cold application technology?
Monique Rodriguez: For the longest time, the power of cool in hair care has been relegated to the cool rinse at the hair salon or the cold shot button on your blow dryer –an underestimated feature that helps to smooth down the hair cuticle to create maximum shine and help your style last longer. Until now! Mielle's Avocado & Tamanu Leave-In, Curl Perfector, and Stay Straight Serum harness the power of cool in unique and innovative formulas you refrigerate to activate. The cold technology in this collection is meant to lay the cuticle down, not constrict the curl.
Afrobella: Do I need to store this in the fridge?
Monique Rodriguez: Yes, refrigerate to chill. Chill for 1-hour minimum and apply cold before styling. Refrigeration is recommended, NOT required. Shake well before use. Do not freeze.
Afrobella: Mielle was acquired by P&G in January of 2023 and there was a strong reaction online. What do you want your customers to know about the partnership? How has it improved business for Mielle?
Monique Rodriguez: Joining P&G was a remarkable moment for our brand and for the climb of Black entrepreneurs everywhere as we collectively continue to break barriers and accelerate the opportunities for growth.
Afrobella: I keep seeing consumers comment about this, and I'd love to have you address this for the record — have any of your ingredients or formulations changed? Do you plan to change any of your product formulations?
Monique Rodriguez: Mielle blends science and nature to create innovative, affordable, and high-quality haircare products that are carefully formulated to meet the needs of textured hair consumers. There are no plans to change current or future formulations.
Afrobella: What can fans of the brand expect to see in the future for Mielle?
Monique Rodriguez: With the support of P&G and our wonderful team, Mielle will continue to serve our incredible customers with rapid innovation and greater reach in the community.
Thank you for your time and response, Monique! Check out the official Mielle Organics site for full details on their Avocado & Tamanu Anti Frizz System. And follow @MielleOrganics on Instagram for behind the scenes details on new products and more!

This post was sponsored by Mielle Organics, but the opinions are all mine!