It's 2015 and I'm still getting used to it. The holidays whizzed by me in a blur and now here we are, in a brand new year filled with promise and opportunity. It's the season for vision boards and resolutions, a chance to dust yourself off and try again.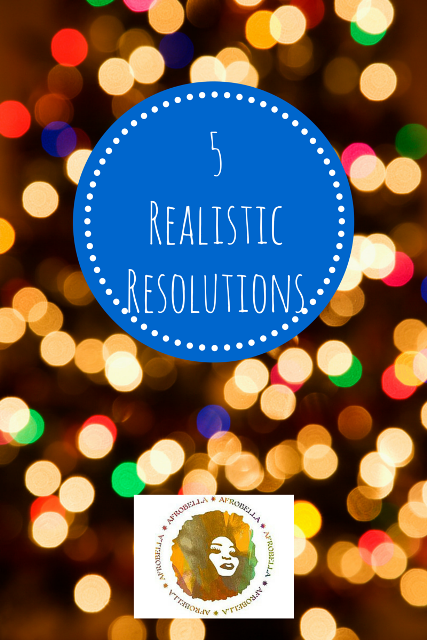 January 1 is a natural invitation for reinvention. The best way to achieve your goals is to make resolutions that are reasonable. I'm SO excited to share that I'm partnering with My Black is Beautiful, to celebrate all of the shades and textures of beauty that we come in. Throughout the year I'll be sharing beauty tips and product picks that I hope you'll love as much as I do.
Here are 5 realistic resolutions that will enhance your beauty AND improve your quality of life!
1 – Get more sleep. So many of us are treating sleep as a luxury instead of a health-improving necessity. Being tired all the time affects your appearance and compromises your abilities. Going to bed earlier will help you get the zzzzz's your body needs!
2 – Drink more water. I've long been one of those "ugh, water is boring" types, but seeing the difference water makes for my hair and skin got me past that. Start with two glasses in the morning. Have a glass before every meal. Try adding a water app to your smartphone to remind you about your hydration needs throughout the day!
3 – Make plans to do something that will bring you joy. Maybe a massage, or pedicures with your girls. Maybe your love is painting, knitting, gardening or horseback riding. Make an appointment to put yourself first. Lay down the mantle of responsibility for everyone else and make yourself the priority at least once a month.
4 – Try to wake up 30 minutes earlier than normal. Making that extra time to work out, meditate, make a hearty breakfast, read, write or put in a little extra work on your passion project makes a big difference in the long run!
5 – Be yourself. Be natural. Be beautiful. You know that as the slogan of Afrobella for all of these years, but this year for me it has even more meaning. I've received so many letters from readers asking me about enhancing their appearance through sometimes extreme methods that aren't healthy for your body, skin or hair. I'm not here to try to tell anyone what to do to feel better about themselves, but I sincerely believe it's of the utmost important to love what you see in the mirror without all of the bells and whistles first. I want you to know that YOUR Black is beautiful.
Visit us at MyBlackIsBeautiful.com for information and inspiration on all of the things that make life rich and beautiful. Also check us out at Facebook.com/MBIB, Twitter.com/MBIB and Instagram.com/MBIB. I'll be doing some fun videos over on the YouTube channel as well – YouTube.co/MBIBVideo.
Talk to me about your resolutions! Did you make any this year?
This post is sponsored by My Black is Beautiful but the opinions are 100% my own!